Over the years we have written about several ergonomic solutions for your workspace and/or laptop.  Unfortunately, many available solutions can be both costly and lack portability.   If you're looking for an ergonomic solution for your laptop that is more affordable and portable, check out the Bauhn Ergonomic Laptop Stand!
If you're unfamiliar with Bauhn, it is an Aldi private label that offers a number of technology products, including headphones, speakers, clocks, and charging stations.  Their Ergonomic Laptop Stand is a laptop stand designed to sit on a desk and elevate the profile of a laptop.  However, its portability makes it a potential solution to prop your laptop up while working in bed or sitting on the couch!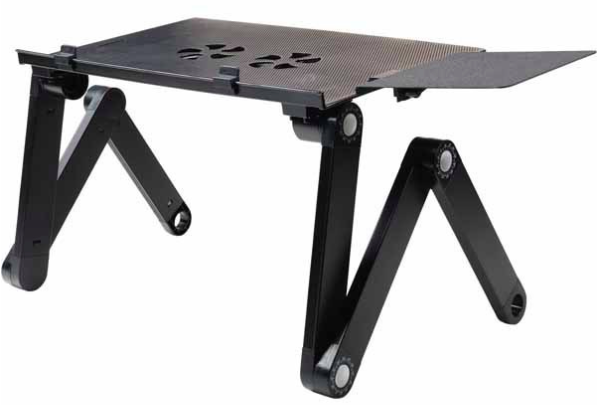 The Bauhn Ergonomic Laptop Stand features both an adjustable height of up to 18.9 inches and an adjustable angle.  The adjustable arms allow for a multitude of configurations.  To adjust the arms, press a button at the joints then rotate them to the desired angle; each joint has a degree angle guide to help you.
Another neat feature is the USB-powered fans found on the underside for device ventilation.  The fans are simple plug-and-play, but they also have an ON/OFF switch if you need to turn them off while the cable is connected.
Overview of the Bauhn Ergonomic Laptop Stand:
A portable, ergonomic laptop stand that can help transform your desk into a standing desk; it also creates a laptop stand if you need to work in bed or on the couch!
The stand fits laptops up to 15.6 inches wide
The box comes with the following:

Laptop stand
Mouse pad
USB cable (for fans)
Small clips
Quick-start guide

The mouse pad is a small metal plate that you can place on the left or right side of the stand; it measures about 6 inches wide and about 6 5/15 inches deep
While the stand features a lip to secure your laptop, it comes with small clips hook to the lip at the end of the stand nearest the user to help keep the laptop from falling off the stand (ideal for larger laptops)
Click here to learn more!