Looking for a fun memory game for your kiddo or students?  Check out the Ladybug's Garden Memory Game from Fat Brain Toys!  According to its description, "Memory skills flourish like flowers in a lush garden when kids start playing the Ladybug's Garden Memory Game!"
Playing this memory game is simple: choose one of the five double-sided puzzle cards and then fit it into place under the puzzle board, making sure all the holes are covered by the 20 wooden ladybugs before you begin the game.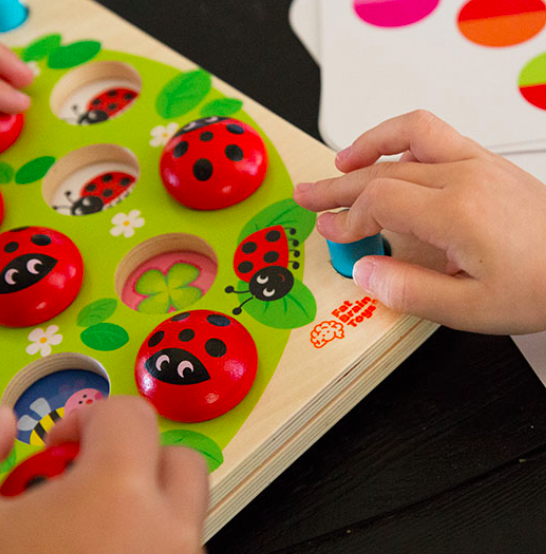 When it's your turn, simply grab two ladybugs from the board.  If the pictures they reveal match, then you get to keep the ladybugs!  Keep on playing until all the matches have been found and all the ladybugs have been claimed.  Whoever has the most ladybugs wins the game!
If you want to play again, simply switch out the puzzle card for another and you're all set to start the game all over again.
Overview of the Ladybug's Garden Memory Game:
Wooden game of lifting ladybugs to search for matching pictures
Chunky wooden ladybugs are easy for little hands to grab
A "beautiful way to help strengthen young brains"
Puzzle cards feature varying levels of difficulty: from simple shapes to numbers to vibrant illustrations
Encourages fine motor skills, memory skills, friendly competition
Includes:

2-piece wooden game board
20 wooden ladybugs
5 double-sided puzzle cards

High quality, durable materials
Check it out on Fat Brain Toys to learn more!