Online safety is so important especially when it comes to children.  If you're looking for a fun way for your child or student(s) to learn about online security, check out the Finn Goes Online app!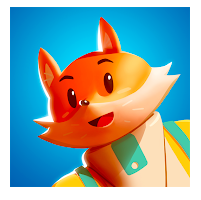 Finn Goes Online is an app that teaches children about online safety, including password security, cyberbullying, and staying safe online.  The app plays like an adventure game where children guide Finn the fox after his spaceship crashes.  He, and the user, are guided by his new friends that he quickly finds when he arrives on the earth.  
Here's more from the App Store:
"After a crash landing, Finn the Foldio Fox lands on our planet Earth. Finn immerses himself in a previously unknown world of smartphones, social media, and the Internet. He has to learn quickly to protect himself from the dangers of the digital world. Children accompany Finn on his journey and playfully learn the basics of cybersecurity."
While playing the Finn Goes Online app, children will learn the various aspects of safe use of online devices:
Data Privacy: understanding and preventing the disclosure of private information, photos, and sensitive data 
Cyber mobbing: dealing with cyberbullying and how to confront and report online bullies
Passwords: how to choose safe passwords and secure access to online accounts and devices
Child Protection: understanding and reporting internet abuse
Overview of Finn Goes Online App:
An educational game app that was developed especially for primary school children in order to prepare them for the challenges of the digital world at an early age 

For children ages 7 and up

A step-by-step adventure story where children learn the most important basics for online safety

Uses digital media in a variety of motivating missions
Visit the developer's website to learn more!