Learning emotions can be challenging for children with autism or other special needs.  Fat Brain Toys offers a fun, hands-on solution to help children better identify and understand emotions with the Magnetic Game of Emotions.
The Magnetic Game of Emotions features a set of magnets and cards for matching facial expressions with emotions.  Start easy with the emotion-matching side: simply match the head and shirt magnets with the picture on the card and then find the emotion magnet that matches the character's expression.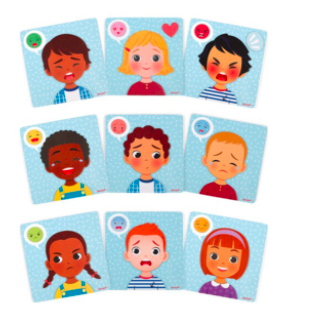 Next, flip each card over to find an illustrated scene.  "There's a girl who just dropped her ice cream cone, a boy playing with a puppy, a girl running away from someone in a ghost costume, a boy witnessing a magic trick, and more…"
Overview of the Magnetic Game of Emotions:
Set of magnets and cards for matching facial expressions with emotions

Encourages nonverbal communication skills, matching skills, empathy, and much more

Features magnetic faces, shirts, and emotions

Double-sided cards feature faces on one side and situation scenes on the other side

Match the magnetic faces with the cards; match the emotions with the faces

10 different emotions to explore:

Happiness

Sadness

Fear

Anger

Shyness

Laughter

Jealousy

Disgust

Surprise

Love

Includes:

10 face magnets

5 shirt magnets

12 emotion magnets

20 double-sided cards

Wooden storage tray

Emotions guide written by psychomotor therapists included

Cards each measure 8.27 x 8.27 x 0.31 inches

High-quality materials and construction for lasting durability

And much more
Click here to learn more!