Jigsaw puzzles are fun for children and adults alike.  If you're looking for a jigsaw puzzle app suitable for little ones, check out the Super Puzzle Kids Jigsaw Game!
The Super Puzzle Kids Jigsaw Game app features over 140 different puzzles with surprise effects, 3 difficulty settings, and more.  The app works similarly to regular jigsaw puzzles in the sense you can nudge pieces around until it snaps to the right slot.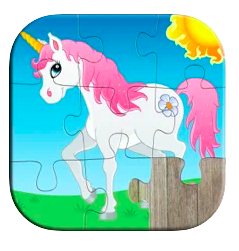 Here's more from the App Store:
"Each puzzle features a different beautiful scene drawn by a professional cartoon artist, and a unique reward when the jigsaw puzzle is completed. Scenes include things like cute animals, dragons, or dinosaurs, and the rewards can be to pop balloons, fruits, snowflakes, and more!"
Overview of Super Puzzle Kids Jigsaw Game:
140+ different kids jigsaw puzzles with "gorgeous HD graphics"

18 puzzles are available free and all 140+ can be unlocked via in-app purchase

Unique rewards for each puzzle
Intuitive navigation
Play with 6, 9, 12, 16, 30, 56, or 72 pieces; adjust the difficulty for your child's skill level
Natural jigsaw puzzle dynamics
No third-party advertisements, only in-house cross-promotion
Click here to learn more!
Looking for a kid-friendly sudoku puzzle app?  Check out my blog on the app Kidoku by clicking here!