Looking for a lightweight, portable digital video reading magnifier?  MaxiAids offers several possible options including the Reizen Digital Video Magnifier!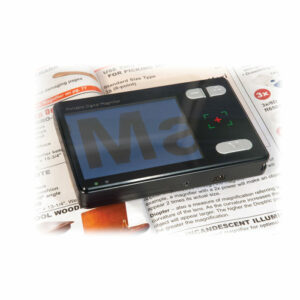 This "high-performance, lightweight" video reading magnifier is ideal for individuals with low vision.  Its top speed (60 frames per second) advanced design means there's "no stagnation, no lag, no trail — resulting in only perfectly smooth reading!"  The device also features an Omni-new intelligent algorithm that enables clear and concise images.
The portable video magnifier boasts an anti-glare, high-resolution 3.5-inch LCD screen.  It also features a dual-lens design so users can magnify objects, pictures, and text both near and far up to 24X!  
Here's more from MaxiAids:
"The magnifier's high-end, wide-angle lens provides wider vision and more words displayed at once, allowing for continuous reading. Connects to an external HD TV for better visual effects. Energy-saving auto power shut off when no operation has been detected for 2 minutes. [The] bracket on the back allows you to raise the magnifier over paper for easier reading of handwriting…"
Overview of the Reizen Digital Video Magnifier:
15 color image-enhancing modes and built-in flashlight
The screen freeze function allows users to take a closer look at text, images, and handwriting
Memory function automatically saves all the previous settings
Ultra power saving design lasts 6 hours
Micro-USB slot
Audio guidance makes it even more ideal for individuals with low vision
1.2 megapixels
Comes with:

The portable digital video magnifier
USB charging cable
Video output cable
Adapter
Lithium battery
Sling
Protective cover
Wiping cloth
User manual

Weighs 0.1520kg or 5.36oz
Click here to learn more!