Traditional landline phones may be difficult if not impossible for individuals with hearing and/or vision loss to use.  The ClearSounds CSC500 Amplified Landline Phone is a potential solution for these users.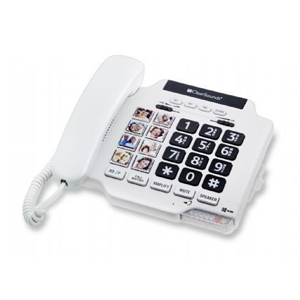 The ClearSounds CSC500 Amplified Landline Phone "is an ideal single-line landline phone for people who are looking for an easy-to-use amplified telephone."  By default, the phone provides up to 15dB amplification.  However, once the user presses the AMPLIFY KEY, the user can boost the volume of the person on the other end up to 40dB.
The phone also features large buttons and 8 one-touch photo dial buttons.  This way the dialer does not need to remember numbers or even names to dial a family member — they only need to remember their face!
Overview of the ClearSounds CSC500 Amplified Landline Phone:
40dB of amplification with full-range tone control
Full-duplex speakerphone in base
High, low, off ringer volume control: ringer amplification up to 85dB
Big-button, easy-to-read keypad
Single-line phone
8 one-touch photo memory dial buttons
3 one-touch memory dial buttons
2.5mm headset jack
Last number redial
Touch-tone dialing
Table/wall convertible
Hearing aid compatible
Mute/flash buttons
Complies with US FCC Standards for Hearing Aid Compatibility (HAC)
Dimensions: 9.3″ x 6.0″ x 2.3″
Click here to learn more!