For many individuals, putting on socks independently is very challenging if not impossible.  If you're looking for a product to help make this daily task easier, check out the RMS Sock Aid!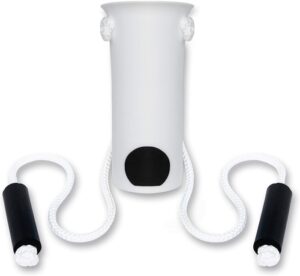 The RMS Sock Aid allows users to put on socks or hosiery independently in "4 easy steps."  The Sock Aid is an ideal tool for individuals who can't bend over, have limited mobility, are recovering from back, knee, or hip surgery, and more.  
Here's more from the product's description:
"The sock assist device is made of high quality molded plastic that is durable but flexible enough to work with all sizes of socks from small to extra large for both men and women. It works with all types of socks including athletic socks, dress socks, stockings, or casual socks…"
How to use the RMS Sock Aid:
Pull sock or stocking over the end of the Sock Aid
Place Sock Aid in front of your foot on the floor
Insert toes into sock or stocking opening
Pull straight back until toes are "well into sock or stocking and the Sock Aid is out of sock or stocking"
Overview of the RMS Sock Aid:
Helps individuals with limited mobility and more put on their socks or stockings independently
Features comfortable foam grip handles making them easier to grab and hold on to
Slip-resistant foam pad keeps socks from slipping off the Sock Aid
The ropes are adjustable to your ideal length by tying new knots as necessary
Made of "high-quality molded plastic that is both durable and flexible"
Click here to learn more!