Jumping from stone to stone on the rocky shore of a rushing river is not only exciting, it also encourages gross motor skills, coordination, balance, and more.  The Nordic Gonge Riverstones from Fat Brain Toys takes this concept, removes all the danger while bringing out "tons of fun and education!"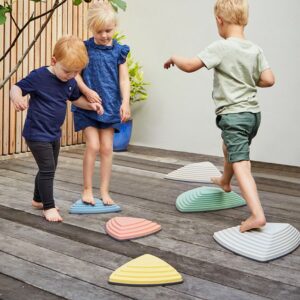 Here's more from their website:
"Three large and three small – each riverstone is tastefully colored with an attractive earth tone, features different angles and ridges, and is built with a non-slip surface and rubber edges, so there's never any fear of falling…"
The game comes with a game guide to give you different ideas of how to play with the stones.  It recommends starting simple with the stones in a row for children to walk across.  Then play a game of musical stones where kids have to find a big stone to stand on when the music stops.  Or set out the stones in a random scramble and let children find their own paths.  
Overview of the Nordic Gonge Riverstones:
Set of angled platforms for children to walk and hop across

Comes with 6 stones total – 3 large, 3 small – each featuring gripping ridges and different angles

Encourages gross motor skills, coordination, balance, weight-transference

Great for both individual and group play

Comes with a game guide that details different ways to play

High-quality construction and materials for lasting durability

Large stones measure 14.17 x 14.17 x 3.34 inches

Small stones measure 9.8 x 9.8 x 1.77 inches

Stones stack on top of each other for easy storage
Click here to learn more about the Nordic Gonge Riverstones!