Many individuals with or without special needs may benefit from a toilet seat being higher.  However, replacing a toilet can be expensive!  If you're looking for a more affordable way to raise the height of your toilet seat, check out the Toilet Seat Riser from Vive Health!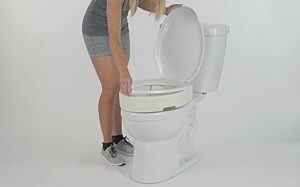 Vive's Toilet Seat Riser is an ideal solution for individuals aging in place, those with limited mobility, and more.  It adds 3.5 inches to your standard toilet to help reduce painful bending, twists, slips and falls.
The Riser easily installs under an existing standard toilet seat with the hardware it comes with.  It works on both standard and elongated toilets.  
Overview of Vive Health's Toilet Seat Riser:
Ideal, affordable solution for individuals who:

Are aging in place

Have limited mobility

Are recovering from hip, knee, or back surgery

And more

Adds 3.5 inches to an existing toilet seat to help reduce painful bending, twisting, slips, and falls

Installs on traditional toilets as well as elongated toilets

Easy-to-clean: simply lift the lid, seat, and riser up and out of the way for convenient, thorough cleaning

Made out of durable, split-resistant composite material

Supports up to 350 pounds

Measures 13.75 inches wide
Click here to learn more!