Looking for a way to keep your early learner's hands and mind busy?  Check out the HeyKiddo My Preschool Busy Book!  The newest (2021) edition of this book has 12 colorful themes that are sure to capture your little one's attention while they work on their motor skills, memorization, and so much more!
In addition to 12 bright, colorful themes, the newest release of this book also features an anti-cutting edge design so it won't hurt little hands.  Additionally, it also comes with "super strong hooks and loop coins which won't fall."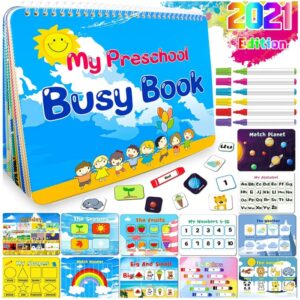 Here's more from its description on Amazon:
"A child who plays with [this] busy book can get so many beneficial life skills, together with developing fine motor skills by using real-world challenges like matching shapes, colors, alphabet, animals, etc…"
Overview of the HeyKiddo My Preschool Busy Book:
Children will work on a variety of skills, including:

Motor skills

Cognitive skills

Basic literacy

Memorization

Identification

Hand-eye coordination

Anti-cutting edge design so little hands won't get hurt

Comes with the book, 8 color markers, and wipes for cleanup

12 colorful themes include:

Alphabet

Numbers

Shapes

Colors

Weather

Seasons

Fruits

Animals

And more!

Makes a great gift idea for children with autism and other special needs
Click here to learn more!