Tobii Dynavox is a global team that "works to help people with communication and mobility challenges live richer, more meaningful lives."  With their newest device, TD Pilot, individuals with disabilities can now control Apple's iPad using their eyes.
TD Pilot is a certified Apple accessory that attaches to a standard iPad to integrate eye-tracking capabilities into all of the typical features of the tablet.  Users can control the iPad via eye tracking in all kinds of lighting conditions, even outdoors.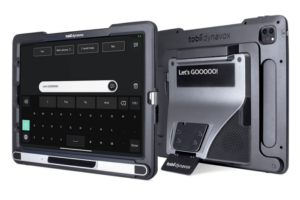 Here's more from Tobii Dynavox:
"TD Pilot comes pre-loaded with AAC software to meet a range of communication needs, and projects your voice loud and clear thanks to powerful speakers.  The device also offers a rear-facing Partner Window for more natural face-to-face conversations."
Overview of TD Pilot:
A medically certified, eye-controlled device for Apple's iPad
Offers powerful speakers, an extended battery, and an "ultra-rugged design"
Can be mounted to a wheelchair
Works in all kinds of lighting conditions, even outside

It comes with the following apps and software:

TD Snap: a symbol-supported AAC software offering a choice of solutions, complete with tools and resources 

TD Talk: a simple text-to-speech app that enables natural conversation using just your eyes or hands
TD CoPilot: a companion app to TD Pilot providing eye gaze calibration, software updates, and battery status
Click here to learn more!