HumanWare is a Canadian-based company that was founded in 1988.  The company's mission is to "develop solutions enabling people living with visual impairment, vision loss, and even learning disabilities to develop their potential and maintain their autonomy."  One of their newest products is the Mantis Q40, which is a first-of-its-kind integrated keyboard and refreshable Braille display.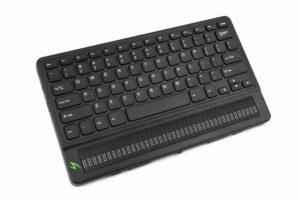 According to HumanWare's description:
"The Mantis Q40 is the first-ever Bluetooth QWERTY keyboard and 40-cell refreshable Braille display that you can pair with your screen reader or smartphone or simply use as a standalone device. Either way, you have Braille at your fingertips, every time."
With the Mantis Q40, users no longer need to choose between a keyboard or a Braille device.  Whenever a student or professional is typing on the Mantis, the refreshable Braille below the keyboard provides a "multimodal Braille complement to the screen reader, making it easier to participate in, and succeed at, school or work."
Overview of the Mantis Q40:
Bluetooth QWERTY keyboard and 40-cell refreshable Braille display
Contains the following built-in applications:

Basic editor to function as a user's pen and paper
Book reader to download and read books in Braille
Calculator to perform basic math calculations
Clock to check date and time
File manager to organize one's work

HumanWare signature thumb keys and home button
15 hours of battery life with rechargeable, removable batteries
16GB of internal storage
SD card slot and USB host port for flash drives
Compatible with:

Windows 8 and above using JAWS 18+, NVDA, and Narrator
MacOS 10.15+ Catalina
iOS 13.5.1+
Click here to learn more!