Something as "simple" as putting toothpaste on one's toothbrush can be challenging for individuals of all ages and abilities.  The Toothbrush Pillow is a low-tech solution to help with this task.  The Toothbrush Pillow is the "first and only product that will allow everyone to independently apply toothpaste."
Further, the Toothbrush Pillow provides a horizontal holder to allow users to concentrate on applying toothpaste without the mess and frustration.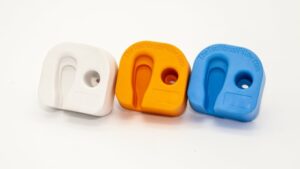 Here's how to use the Pillow:
Place your toothbrush horizontally in the toothbrush slot

Unscrew your toothpaste in the hole on the other side of the pillow

Squeeze toothpaste onto your toothbrush

Twist toothpaste lid back on

Start brushing!
The device is designed to hold any toothbrush (electric or manual) in place while users apply toothpaste.  It's an ideal solution for individuals with Parkinson's, autism, arthritis, and more.
Overview of the Toothbrush Pillow:
A low-tech solution to help individuals with (or without) special needs to apply toothpaste independently
Great for individuals with autism, arthritis, Parkinson's, and more
HSA and FSA eligible medical device
Helps achieve "no more mess" and "no more fuss" goals
Made in the USA
Available in white, orange, and blue
Holds standard and electric toothbrushes
FDA-compliant
BPA-free
Dishwasher safe
Click here to learn more!