Ageless Innovation is an innovation team that was originally formed at Hasbro back in 2015.  The team's focus was to create "engaging products that foster meaningful connections through play, joy, and happiness" for older adults.  After extensive research and feedback, they launched their line of interactive Joy for All Companion Pets.  
The line features both robotic cats and dogs designed to bring comfort, companionship, and fun to adults of all ages.  This blog will highlight their Golden Pup Companion Pet, which is comparable to real pups in many ways, but without the mess and responsibility!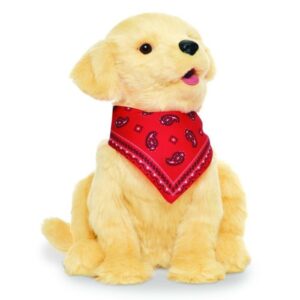 Here's more from their description of the Golden Pup Companion Pet:
"Feel the warmth and love of a companion pet, without the mess or excessive responsibility.  Combining realistic features of owning a dog with convenience, the Joy for All Golden Pup Companion Pet provides loving interaction and inspiress sincere care."
The Pup's built-in technology allows it to react to the sound of your voice and respond to your touch, much like real puppies would!  "This two-way interaction helps you create a personally rich experience that can bring fun, joy, and friendship to you and your loved ones."
Overview of the Joy for All Golden Pup Companion Pet:
Pet the soft, lifelike fur coat and feel Golden Pup's calming heartbeat
With built-in sensors, the robotic pup responds to your motion, voice, and touch
Thanks to the BARKBACK Technology, the Golden Pup will bark back when you talk to it!
If you or a loved one are more of a cat person, check out their line of Companion Pet Cats by clicking here
Click here to see our Tech Tip on the Joy for All Companion Pet Cat!