There are many smartwatches available on the market.  If you're looking for a new smartwatch for your kiddo, look no further than the MPG Kids Smart Watch!  
This premium children's smartwatch is far more than just a timepiece.  It features fitness tracking to encourage kiddos to be active, as well as GPS tracking so parents can track their child's location.  Children will also have the ability to make and receive calls.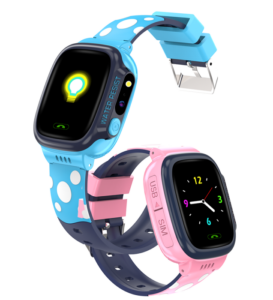 Another neat built-in feature is the watch's HD camera, so children can take pictures of themselves.  Parents can also take photos of their kids remotely from their phones.  Additionally, parents will have the ability to set up an alarm and class schedules for their children to help them keep track of time.
Overview of the MPG Kids Smart Watch:
Built-in "high accuracy" GPS positioning so parents can keep track of their child's location
Set the child's activity range in electric fence mode; if the child leaves the set area, the app on the parent's phone will trigger an alarm
Built-in high-definition camera allows children to take pictures; parents can also take pictures remotely
The two-way calling function allows the child to make and receive phone calls
LED Learning Light helps children light up their surrounding area whenever they're in the dark
IP67 water-resistant: watch can withstand dust, water splashes, and rain.

Please note the watch should not be submerged underwater; not made for swimming or showering

Built-in 680 mAH large-capacity battery which can last for 10-15 days on standby mode
Available in blue and pink
Click here to learn more!