Podcast: Play in new window | Download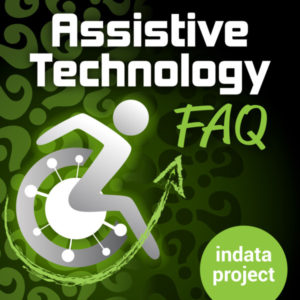 Panel: Brian Norton, Belva Smith, Josh Anderson, Tracy Castillo
ATFAQ157 Q1. Favorite disability-related apps, Q2. Movie subtitles/captions, Q3. Writing solutions for students with fine motor and speech challenges, Q4. Wildcard: How do you store your personal information?
—– Transcript Starts Here —–
Speaker 1:
I have a question.
Speaker 2:
Huh?
Speaker 1:
Like what?
Speaker 3:
I've always wondered.
Speaker 4:
What about?
Speaker 3:
Do you know?
Speaker 5:
I have a question.
Speaker 6:
I've always wondered.
Speaker 7:
I have a question.
Speaker 6:
I have a question.
Speaker 8:
Oh, I have a question.
Speaker 9:
I have a question.
Speaker 10:
I have a question.
speaker 11:
Welcome to ATFAQ, Assistive Technology Frequently Asked Questions with your host Brian Norton, Director of Assistive Technology at Easterseals Crossroads. This is a show where we address your questions about assistive technology, the hardware, software, tools and gadgets that help people with disabilities lead more independent and fulfilling lives. Have a question you'd like answered on our show, send us a tweet with the hashtag ATFAQ. Call our listener line at (317) 721-7124 or send us an email at tech@eastersealscrossroads.org. The world of assistive technology has questions and we have answers. And now let's jump into today's show.
Brian Norton:
Hello and welcome to ATFAQ episode 157. My name is Brian Norton and I'm the host of the show. And we're so happy that you've taken some time to tune in with us this week. We've got a great lineup of assistive technology questions. But before we jump in, I just want to take a moment to go around our virtual room and introduce the folks who are here with me. First is Belva. Belva is the vision team lead with our clinical assistive technology team. Belva, do you want to say hi?
Belva Smith:
Well, hello everybody.
Brian Norton:
Excellent. Next is Tracy. Tracy is the end data program manager. Tracy Castillo. Tracy, do you want to say hey?
Tracy Castillo:
Yes.
Brian Norton:
Good to have you, Tracy. And we also have Josh, Josh Anderson. Josh is the popular host of AT Update, one of our other podcast here on the Accessibility Channel with the end data project. But also he is the manager of our clinical assistive technology program. And so Josh, do you want to say hey?
Josh Anderson:
Yeah, it's great to have you here. Thanks for coming.
Brian Norton:
Yep. Thanks. Just want to take a moment for new listeners, just to give you a little bit of information about our show, what we're all about. And so we come up across some feedback. We actually solicit feedback for the questions we cover and we also come across assistive technology related questions throughout the week. And then we really kind of turn those into a show. We'll sit around as a panel. Usually it's Josh, it's Tracy, it's Belva and myself, and we'll sit around and we'll try to answer those questions as best we can. One of the things that we want is to give you guys easy ways to be able to get us your questions. You can give us a call on our listener line. That's (317) 721-7124, or send us an email at tech@eastersealscrossroads.org. Or you can send us a tweet with a hashtag ATFAQ, those are all great ways to get us your questions.
Brian Norton:
But we also are looking for feedback. I mentioned soliciting feedback. As we try to answer questions, we do our best to be able to give well-rounded answers, but we know that we don't know everything and that our listeners oftentimes are either folks with disabilities who are in a particular situation that kind of has some bearing on the questions we're being asked, or you're a surface provider and you're providing solutions to be able to address some of these issues. And we're always looking for feedback that we can share as a part of our show. So if you're interested, you can do the very same thing with your questions, send us your questions to the listener line, that email, or sending us a tweet. You can also provide feedback in that way as well.
Brian Norton:
All right, so we're going to jump into our first bit of feedback for today. Our first bit of feedback came from Shirley, early she is a speech language pathologist, and she was commenting on a question that we had recently about the Amazon Echo and one of the different features, different helpful features that we thought were really useful for folks. And she wanted to mention the ability to create shopping lists. She basically mentions that you can connect the Echo to your Alexa app on your smartphone, and then create a shopping list. Sometimes she finds that when her hands are occupied with cooking or cleaning, just telling Alexa to add something to that list helps her become more organized. And then she can then go back into that list and categorize those so that when she's out shopping, she can find those more easily and be able to keep track of the things that she needs to purchase for home. And it's helpful. So she won't forget in the moment and not remember to be able to do it later. So that is a great feature.
Brian Norton:
I don't know about you guys, but I use the shopping list on my Echo app just to help quickly add things much like her situation there in the moment. I think of something, but I know if I move on and I don't record it, I'm going to forget about it. And it's likely the next time I go to the grocery store, I'm not going to remember it. So certainly a really great feature. Does anybody else use that particular feature on their Echo device?
Belva Smith:
You know me, I'm not a list person, so no, I don't. Although mine is constantly reminding me, "Hey, you could create a shopping list. What would you like to add to your shopping list?" And one day it said to me, "Hey, you've got five items on your shopping list." And so I ask it, "So what do I have on my shopping list?" And it said, "Oh, you really don't have anything." So I think it was just trying to trick me.
Brian Norton:
It was playing with you there a little bit.
Belva Smith:
Yes. Yeah.
Brian Norton:
Nice. Excellent.
Belva Smith:
But no, I could see where that would be, especially like with a larger family or an individual who maybe only goes to the grocery store a lot less frequently than what I do. It's not uncommon for me to go to the grocery store two or three times a week. So yeah. I could see where it would be helpful.
Brian Norton:
Yeah. And I believe you can connect it to your Amazon account as well, and just have things show up at your door, right? You can purchase things directly through it as well.
Belva Smith:
Yes.
Brian Norton:
Well, excellent. Hey, thank you, Shirley for the feedback. I love that feature, really appreciate you sending that in and thank you for that. So without further ado, we're going to jump into our first question today. The first question is just really simply a general question. This is one I'm asking you guys. And so what are your favorite disability related apps? So think about a couple of apps that you recommend or use with the folks you serve and just wanted to kind of hear what types of apps are you guys using and which ones do you think maybe kind of rise at the top as some of your favorites?
Belva Smith:
Well, so for me, it's a longstanding, same answer. I love Seeing AI. I think the cost makes it perfect because it's free. And I think its ability to do so many different things is just amazing. And it does all of them in my opinion quite well. Now, with having said that I do recommend that to every single person that I work with. Who's got any kind of vision loss and has an iPhone or an iPad. And I have had a lot of my consumers come back and say, "That program stinks. It's just not that good." But I don't have that experience with it. So whenever I hear someone tell me that I always try to dive in a little deeper and see what it is that maybe, what kind of environment is it that they're using it in or what it is they're trying to do that isn't working out for them.
Belva Smith:
And I will say that that has been my number one app pretty much since it came out, I'm also becoming a pretty big fan of the Be My Eyes app, again, another free one. But can be quite helpful to someone who's trying to find a location or find an object or get information just quickly read to them. So I'm starting to become a big fan of that one as well. Again, it's free and it is available in both Android and iOS, we're Seeing AI is still only available in iOS. And that's the way it's always going to be. It's my understanding that they've given up and it will never be on Android, though android does have some that are similar.
Brian Norton:
Hey Belva, is there a reason or maybe not a reason, maybe the next app is going to be this one, but I've heard IRA is also free for short five minute phone calls. I mean, is there a reason Be My Eyes, is it because it's always free and you're never going to have to get stuck with subscriptions or differences between those two?
Belva Smith:
Well, the other are some differences, but since IRA has started to offer the five minute or less phone conversation for free, our phone assistant, for free to anyone, it has bumped it up a little bit in my opinion, but the bigger difference is you're using a paid sighted assistant, whereas with Be My Eyes, you're using a volunteer. Again, what I hear from my consumers, you're more likely to get a quick answer if you do IRA, Be My Eyes sometimes takes a while to get an answer because they are volunteers.
Belva Smith:
And I would also encourage IRA for anybody who's maybe doing something that is more personal. I'm not sure that I would feel comfortable doing banking or medical stuff with either one, but if I were going to have to, I would choose IRA. Yeah, that would be my recommendation to anybody is to do IRA if you're doing anything personal like banking or medical. But yeah, I mean, they're virtually the same. You're just using a paid assistant versus a volunteer.
Brian Norton:
Got you. Okay.
Belva Smith:
So yeah, I don't really have a big preference between the two other than Be My Eyes is free all the time.
Brian Norton:
Got you.
Josh Anderson:
I guess I'll go next. And so the ones that Belva said, definitely for sure, for anyone with a visual impairment, I'd say they're great. And Seeing AI also have some great things for individuals who might have any other kind of print disability. So any kind of dyslexia, any kind of trouble accessing text, be it because of vision or other reasons, it is a really great one. And Brian, this is a hard one. And the reason it's such a hard one is, I've been doing more evals lately and writing more reports. And so many things that used to be free or a $1.99 are now like five bucks a month or $25 a year or something like that. And it makes it a little bit harder to tell you what I like, what I don't know what things cost anymore. Notability is a pretty simple one, and it does some great things. It's really good works on Mac iOS and those, and it used to be, I can't remember, I think it was $10, maybe, maybe five or 10 bucks.
Brian Norton:
Yeah. I think it was 9.99 or 11.99 or something.
Josh Anderson:
Yep. Now it's like three bucks a month or five bucks a month, or something like that. And it really and truthfully is making it to where I'll recommend something else or I'll try to find something free. The other thing is with disability related apps, the ones that Belva mentioned are pretty much disability kind of related, but most of them that I use on a regular basis aren't, even AudioNote, Notability, those are made as productivity apps for any individual, but they'd have some really great tools for individuals with disabilities. There's other ones, none of which are kind of coming to my mind right now. But again, it does just make it a bit of a challenge because the price structure everything's going to a monthly fee. And for so many of the folks we work with shoving out five, 10 bucks one time isn't that big of a deal. But when you're adding a whole five, $10 per month onto their monthly bill on a fixed income, it's just not accessible anymore.
Belva Smith:
Well, Josh and I don't want to interrupt, but to contribute to what you're saying there, number one, I really am against all of these monthly fees for the software, because it becomes a real pain in the tush. A lot of our consumers don't have credit cards. So then they're forced to use their debit card, which they may or may not have. So I find that to be kind of troublesome and again, to what you were saying about are not necessarily apps, one of the biggest disability apps that I think is greatest Siri. Sure. And what's the Google one?
Josh Anderson:
OK Google.
Belva Smith:
Oh, well, yeah. Okay.
Josh Anderson:
I don't remember what its name is, but I think OK Google is how you get it.
Belva Smith:
The voice assistant that's pretty much included in all of our smartphones, in our computers, those are amazing disability tools.
Josh Anderson:
Yeah. Oh yeah, for sure. And Brian, one other one that I guess I do use quite a bit is Otter AI. There's a free version of it. I think you get 600 words a minute, but for individuals with any kind of hearing impairment, it's really good for if you're trying to work in a group, or listen to a speaker or something of that sort. It does give you real time captions. They are artificial intelligence created, so they're not perfect. But the nice thing is it'll also differentiate between the different speakers as well as send you a transcript essentially, of what all is said, that's actually searchable. So it's a great way to kind of make notes and stuff. There is a paid version available, which does have that really fun monthly fee, but the free version again, gets you like 600 minutes a month. So depending if you're only using it for here and there, for little conversations, maybe have another accommodation somewhere else, it works great in a pinch for conversations and things.
Brian Norton:
Yeah. And I want to just jump on the tail end of what Belva was saying and what you were saying about these subscription type of apps now. A lot of the funding sources we work with, the clients don't have credit cards most of the time, like you said, Belva, but also the funding sources aren't set up to be able to pay for those longer term. And so they usually will like to either buy it outright or they might pay, if you're a college student, we might be able to get them to pay for a four year subscription or however long your education is going to last. But even sometimes that's far and few between and so these subscriptions are really a burden for a lot of the disabilities that we work with and being able to afford those month in and month out. And so it's not just even the consumers who don't have credit cards, it's the funding sources aren't set up to pay for them either. So it becomes a real challenge for folks. Tracy, did you have a couple of apps?
Tracy Castillo:
I do have a couple of apps. Thank you for asking. Well, not apps, but just some functions of the computers themselves, like on edge. I like to use Read Aloud. It allows me to have the text read to me and I like to show that part off. It's really cool. The built in stuff is such as a Narrator. I liked it, I like to use that when I'm not Narrator, but any speech to text stuff I like. So when I see that stuff, I try to check it out, see what works for it. I use the Mac, so I like to use the speech function in Mac, it lets me learn how to enunciate things or how to say things properly.
Tracy Castillo:
I always ask Siri and Alexa, how to spell things. Well, not always, you guys know that by looking at my email, joking. I'm joking. Those were typos. But no, and you know what, there is another app that I think is really, really cool is the WeWALK and it's a GPS for low vision and blind people. I thought that was really cool. That's been in my little toolbox of neat and cool apps that I've been holding onto for a little bit. But yeah, anything that's speech to text, sign me up for it.
Brian Norton:
Cool. The WeWALK app, does that require the cane with it or is it just to standalone app?
Tracy Castillo:
No, I have it on my phone right now. You don't have to have the cane to use it.
Brian Norton:
Okay. Interesting.
Tracy Castillo:
It'll work with the cane, but you can use it as a standalone.
Brian Norton:
Very cool. Very cool. Yeah. I think you're right, Tracy, there are a lot of built in tools, not just on the phones and the tablets, but also Chrome extensions that you can get from the Google Play Store or the Chrome store, different extensions and add-ons that you can get that are pretty useful. One that I use in a similar vein to you is I use something called Grammarly. Grammarly sits just in my web browser, and when I'm using Microsoft Office products online or doing anything with Gmail or anything my Google docs, or those types of things, it really does help with grammar and spelling, telling me when I've missed a comma or giving me some different ways to be able to phrase things that might make my email a little simpler to read or understand.
Brian Norton:
And so Grammarly is a really, really nice little extension that I use within Google Chrome. And I think it's available for other browsers and on the computer as well. So definitely something that I would say has been really super helpful for me. But for folks who have any type of difficulty getting their thoughts, writing those types of things, Grammarly can be a real helpful tool for folks. Two other ones, I just want to make quick mention of, the other one that I really like, I don't get to use it as much, but I do use it with the consumers that I work with quite a bit as ClaroPDF. ClaroPDF is a note taking app for your smartphone or tablet, mostly a tablet. I think a tablet would work better with it, just simply because it gives you a little bit more space to be productive with, but it allows you to upload PDFs, PowerPoints, documents, text files, and then take notes directly on them.
Brian Norton:
You can annotate, enter little text notes, you can can annotate by drawing or pictures or circling things, highlighting things, lots of different ways to be able to annotate the documents that you upload. You can also do OCR. You have to pay for that. That goes back to what we talked a little bit about earlier is some of these have in app purchases that you have to do to be able to get full functionality out of them, but it does have a way to do OCR with it so that you can take a picture of a document and then upload it directly to the app. But that does cost a little bit. There's some in-app purchases to be able to allow you to get a certain number of scans, or a certain number of pictures to be uploaded over time. But I've just found it super helpful.
Brian Norton:
The other thing I really like about this one is it does also allow you to access your camera. And so you can take a video. So if you have your PowerPoint already uploaded and the teacher's talking about things, you could actually record video into the PowerPoint slides. And so as a teacher talks about it, you can get and capture what the teacher is saying about the particular slide that you're on. And so I think it's sometimes really super helpful, lots of different tools in it. It is about 10, I want to say it's 10 or $15, but it's a pretty inexpensive app for all of the different features that you get. And I just find it really, really helpful for some of my folks that really struggle with note taking, maybe it's intellectual cognitive disabilities at class, being able to capture information so that they can pull it up later. So ClaroPDF is the name of that app.
Brian Norton:
And then another one that I use quite a bit, mostly for folks that need prompting and queuing types of assistance, I use an app called MultiTimer. MultiTimer is an app for your tablet or your mobile device that you can set up multiple timers. It's really great for things that need a sequence or maybe it's a task that requires multiple steps. And so not only can you start one step, but when you stop a step, then the next step starts for you. And so it really is helpful for again, prompting and queuing folks through either a sequence or a series of steps.
Brian Norton:
Maybe it's a routine that a person has. The one that I always use as I talk about this stuff with things is if you have a morning routine where someone needs to not only get up, they need to take their shower, they need to brush their teeth, put their deodorant on, get dressed, grab their things for school, those types of things. You can grab all of those and make those individual timers to keep people on task during that morning routine to help them get things accomplished in a timely and efficient, and a productive manner. So that's another one, it's called MultiTimer. Something to certainly check out.
Brian Norton:
I would love to open this up, if you guys have a favorite app, disability related app. And I know, to Josh's point, sometimes productivity is really the purpose behind the app, but sometimes for folks with disability, their productivity is what's lacking or what's the issue is. And so we can use some of those productivity apps to be specifically for someone who has a disability. So just kind of want to open that up to folks. If you guys maybe are a service provider or a person with a disability and you guys use apps or you recommend or use those, let us know. We'd love to be able to hear about the apps that you guys use. Give us a call on our listener line, that's (317) 721-7124 or send us an email at tech@eastersealscrossroads.org. Thank you so much.
Brian Norton:
All right. So our next question is from David. This came through email and his question reads, "I am a deaf person and I have a large collection of top quality movies from several decades of the history of film art, but I cannot watch them as they are missing subtitles and closed captions. Is there an application that could do the same job," create the captions is what he's talking about, "When listening to a computer, sound card, processing and movie soundtrack?" And so essentially I think what he's wanting to do is use the computer or an application to be able to create subtitles for those movies. And here's where I'm at with this, and I'll have you guys fill in as well, anything that I might miss here, but I think a lot of times there are apps out there that do a pretty good job of transcription and closed captioning.
Brian Norton:
If you're already on the computer, we actually use a website for our podcast, it's called rev.com and you can upload or send them a link or upload a file. And they'll actually go ahead and create the subtitles, designed for YouTube or other types of things for videos, depending on the file type that you have, but they will create sub subtitles or they can do transcription for you to be able to provide that transcript. And they do a really good job. They actually have folks who get paid for transcribing. These are live people who are editing, you can pay for an AI generated transcript. But my experience with that is that it's not quite as good as what you'll get from someone who's live listening to it. And transcribing along with what's being said in the video.
Brian Norton:
So having live transcription versus AI generated is going to be more accurate. The other thing I would do if you're looking for a less expensive option, we've mentioned it already on our show today as one of our favorite apps, but Otter AI is a pretty good app, Otter AI. Again, you can get 600 minutes a month for free. If you're going to go over that, you're going to pay a little bit for the app, but you can get an unlimited amount of minutes, but basically it's just using a tablet. You can have it on in a browser. And so as you're watching a movie, if your computer's close enough to that movie, and it's hearing the sound, it's going to go ahead and provide a transcript of it and create it on the fly as it moves through. And so it is artificial intelligence, AI generated.
Brian Norton:
So it's not going to be perfect, but it's certainly something that can provide some context about what's being said and provide a pretty reliable transcript for what you're maybe listening to as far as that film is concerned. And so think about Otter AI as an option. I think that's really simple. It's cross compatible, if you have your phone, if you have your tablet, if you have your computer windows or Mac, if you have just a browser open, Chrome browser, you can get to that and you can then really transcribe just about anything. So it can do conversations. Again, in this situation, if you're playing the video on a TV, it's going to pick up the sound from the TV and transcribe it for you.
Brian Norton:
So certainly something to think about, and again, for 600 minutes a month, it's free, and then you can pay for it if you want to a little bit more down the road. But that would be my suggestion, if you're able to upload them, think about the website, rev.com. That's a great one. They're many other ones that are just like rev, but we've had some good experience with them. But then also from an app perspective on the computer or tablet or phone, think about Otter AI.
Belva Smith:
I was going to say Otter AI too, but there's also Live Transcribe or Ava. And then a kind of freeway of doing it is if you on the fly, open up your notes app and turn on dictation and have it dictate the whole movie.
Brian Norton:
Yeah. Yeah. When you said Live Transcribe, that's a really good suggestion too on a Android tablet that's a free part of their operating system. And so you can just simply turn that on in accessibility settings and it picks up everything much like Otter AI and transcribes what it's hearing. So very great suggestion.
Belva Smith:
Thank you. And then, I mean, there's this thing and it's not out yet, so it's not like you can go out to store and buy it yet. But there is this thing called the TranscribeGlass and it allows you to see that conversation. I just searched the website. They said it's affordable. Yeah. Because it's not available yet, but it's comfortable. And it gives you what it is, is a heads up display of the conversation and you can change how the words look, like if you want to change where on the glass that they will show up, you can do that.
Belva Smith:
You can change the size of the text and it gives you a heads up display of the conversation. It snaps onto your reading glasses. And well, right now they're taking signups for their beta. And they say they're going to release it in early 2022. So there's another option for you not available just yet, but I thought it was a pretty cool thing when I first learned about it and I finally got a reason to talk about it. So yeah. So instead of wearing 3D glasses wear your transcribe glasses. What's up?
Tracy Castillo:
So would that work on a phone conversation or just with a video?
Belva Smith:
I think it's going to be just on in a person video. So you know how the… I'm trying to think, what is that one thing that helps you see, I think-
Brian Norton:
The OrCam.
Belva Smith:
The OrCam. This device kind of looks like the OrCam too. And maybe the Google Glass a little bit as well. And it kind of puts that display right in front of your eye. So I don't know if it'll work with video, but it would give you that transcription right in front of your eye.
Josh Anderson:
So I actually talked to the person making it on AT Update. He's like 18 years old, which makes you feel like you didn't do a whole lot with your life, but-
Belva Smith:
I do not [inaudible 00:28:52].
Josh Anderson:
But yeah, but Belva in your question. I think it can do both because it's actually using one of the transcription engines in your phone and projecting that up there. So Google Translate, I think it's what it's using. I'm not sure. I don't really remember exactly. And he wasn't sure as it's kind of in the development phase what exactly it would be using, but it should be able to do phone calls face to face conversation. So I'm pretty sure if you streamed that movie through a phone or even watched it, you might be able to get that pretty much real time transcription coming up on it. At least that's the idea behind it. But yeah, I know there's still beta testing, but it'll be something really cool. So thanks for bringing that up, Tracy. It's got to be something really cool when it does come out, but it might be something that could meet that need.
Belva Smith:
Yeah. That's something that could really help a lot of people with their phone conversations. That's why I ask about that. So are you going to have him back on once it's finally released?
Josh Anderson:
Yep. If I can get him, for sure. Yeah. Most definitely. Well, I always tell people whenever I interview them, "Hey, when there's new stuff or something comes out, get ahold of me." Nobody ever gets ahold of me.
Brian Norton:
How much does it cost? Did they set a price point Josh or Tracy-
Josh Anderson:
I think it had a price point, but it was not high. It was under a hundred bucks, I think. Now that was again, you're doing beta testing and I really think it was even less than that. His idea behind it was he had a friend in school who was hearing impaired, who ended up quitting school, because he didn't get anything from it. You know what I mean? And every accommodation was, if the school doesn't supply him, they couldn't afford to pay their own cartographer or their own anything like that. So the cost effective part of it was the most important. The usability was second in trying to keep it that kind of way.
Tracy Castillo:
That makes sense. Why they've listed the affordability part first. It's first.
Josh Anderson:
Exactly, exactly. I mean, and you guys know this, you work in assistive technology, you can make the thing that'll help everyone in the world overcome every disability, but if they can't afford it, well, then it doesn't help anybody. So got to kind of mix that, and I guess you still need to kind of make money and put food on your table, but you got to kind of balance the two out on what it actually does.
Tracy Castillo:
Well, I hope he's able to accomplish his goal. That's a really neat one to do. Like I said, I saw that they're taking signups for the beta testing on it in the early release of 2022. And the name of that one again was TranscribeGlass.
Brian Norton:
Excellent. Excellent. We get questions like this pretty regularly. This is Assistive Technology Frequently Asked Questions and this is kind of one of those frequently asked questions that comes and different forms or different shapes, different words. But we get a lot of questions about, "Hey, I've got a student in school or they're part of a class and they're hard of hearing, and how do we make sure they're capturing everything?" And so these are kind of the apps that we would recommend in those situations, but it would certainly work for films, it would certainly work for face to conversations, small group conversations, those types of things as well. And so hopefully this is a good answer. Hopefully, David, this kind of answers your question.
Brian Norton:
We'd love to hear from other folks. If you guys have other suggestions, maybe there's different services or other apps that you guys are aware of. We'd love to hear from you. Feel free to give us a call on our listen or line that's (317) 721-7124, or send us an email at tech@eastersealscrossroads.org. Thanks.
Brian Norton:
All right. So our next question is, "What type of AT supports would you recommend for an eighth grader who struggles with writing composition and fine motor challenges, are really at the crux of the situation and has a speech impairment looking for Windows compatible solutions?" And so what type of AT supports would you recommend for an eighth grader who simply struggles with writing the composition part of that and the fine motor challenges, and they also have speech impairment. So thinking about that, that may not make Dragon or Windows voice input very helpful if they have a speech impairment. So maybe some more kind of rudimentary tools to be able to help with that type of situation.
Josh Anderson:
So the hard part is the word fine motor challenges, cause that can mean a whole lot of different things. I mean, is it just targeting? If it's targeting then perhaps just a key guard over the keyboard can kind of help them at least be able to kind of access it. As far as with the challenges in writing, let's address that first, before we kind of get into the fine motor challenges. So a big problem that a lot of folks have, and not just eighth graders, but really a lot of us have is really getting those thoughts out. And if I can't dictate them well, that's maybe out the window. So anything that does mind mapping might be really helpful. I mean, mind mapping we probably all learned how to do it in eighth grade or maybe sixth grade or fifth grade.
Josh Anderson:
It's where you draw the big idea bubble and then you have little lines come off, the little idea bubbles and more ideas kind of come off that. What it does is it helps you plan, it helps you kind of think it out. What a lot of people have trouble with writing is A, "Where the heck do I start, where am I going? Where do I end? What am I actually going to put in there? How do I make it fluid?" And those are overwhelming things when we put them all together. So mind mapping is a great way to be able to get all those ideas out, put them into some sort of visual space and then go on writing from there.
Josh Anderson:
There's a lot of different programs that do this. There are small apps. Inspiration is one that I've used before with pretty good success. It's not very expensive, 10 bucks. Well, was. Now it's probably subscription based and cost, gosh knows how much, who the heck knows? But another one is, oh, by MindView or what is it called? I just forgot the name of it. Brian, is it MindView?
Brian Norton:
MindView, yeah. MindView is the company. Yep.
Josh Anderson:
Yeah. MindView is the company, what's the program called?
Brian Norton:
I think it's MindView, is it?
Belva Smith:
I think it's MindView.
Josh Anderson:
Is it MindView? Okay.
Brian Norton:
I'm pretty sure. Yeah.
Josh Anderson:
Thank goodness, man. These are frequently asked questions. Anyway, but MindView is great because it gives you all about mind mapping stuff. But the thing is it can actually do a lot more. I can import a lot more information and then I can essentially just hit an export button and it turns it into a Word document with all my sources and everything there. I hit a different button and I have a PowerPoint presentation with all the stuff that I put together. So it can really streamline a lot of that work for me. Whereas usually if I'm doing a mind map and I've got to kind of look at it, and then kind of transfer that into my thoughts, which if I have fine motor challenges that might be adding more and more work.
Josh Anderson:
With that, with the fine motor challenges, really it's finding the access method that they're going to be able to use on the computer is going to be the hard part. So like I said, that all depends on what those fine motor challenges are. If it's targeting, well then a key guard or something like that may be able or a different keyboard, something smaller, something larger, something with bigger buttons. There's always sticky keys, which is a beautiful thing that you can enable on pretty much any kind of computer Windows, Mac, all those that allow you to kind of double tap a key to stick it so that I don't have to try to hit shift and J, or kind of reach all the way across my screen. There's different mice, track balls, joysticks, head arrays, switches. There's so many different ways to access the computer.
Josh Anderson:
And I'm going to steal Tracy's thunder and say that a great thing you could probably do is look at your local AT Act and if maybe they have some different access methods you can borrow. A lot of them have labs even set up, or you can go and maybe try out some of this stuff or even call them and try to get a demonstration of the different ones just because they all have, if you're going to go to switch access, that's a little bit tougher just because it's got some kind of tricks to it, but it could just be that an alternative keyboard, an alternative kind mice could do it, or it could be that a tablet style device is a little bit easier.
Josh Anderson:
Also, it did say with the speech impairment, depending on the speech impairment, Dragon naturally speaking, we've used it with a lot of folks that don't have perhaps perfect annunciation. See, I can even say that word right. And Dragon actually learns from you after a while and can get better and get more intuitive and really kind of understand what it is that you're trying to say. So just because we do have kind of that little bit of a speech impairment doesn't mean that dictation's completely out. There is always the chance that that could kind of work too. Dragon's not cheap though. I mean Dragon's 500 bucks nowadays, so that may not be the best one.
Josh Anderson:
Again, I would recommend go and try some different things out. Maybe some of the things that we kind of talked about here, but really with writing for a lot of folks that I deal with, especially when compositions an issue, it's just getting started, it's getting those ideas out and kind of putting it all together, which a lot of times mind mapping can really and truly help with.
Brian Norton:
Yeah. I'll echo some of those that you've mentioned. I think you've pinpointed the fine motor challenges, finding that right access method. And I know different types of keyboards that I've worked with, with folks. It really does come down a lot of times with fine motor, if it's the targeting piece where I'm trying use a standard keyboard and I'm having difficulty pressing the key. I'm accidentally pressing the one next to it or simultaneously pressing the key I want and the one next to it. And being able to actually type proficiently, or effectively or efficiently with the regular standard size keyboard. A couple of bigger ones, big keys keyboard, there's the blue board that's out there. They're just bigger key keyboards.
Brian Norton:
They don't have all the keys that a traditional a hundred four key keyboard has, but it's got bigger keys, allows for easier targeting. Josh, you mentioned sticky keys, filter keys is another great one. So sometimes with fine motor skills, getting your finger off of a key before it's put in multiple characters, symbols or numbers, whatever key that you press, it's going to put in multiples of those, because I couldn't get my finger off of it in time. And so with filter keys, you can kind of slow down the repeat rate to be able kind of make sure that you're not putting keys in simultaneously or repeatedly. And so that can help with that different mice, different key guards.
Brian Norton:
Something that I oftentimes look at too, and I have someone who's really struggling with fine motor and the composition is really at the crux of the situation and they really struggle with speech impairment and they can't maybe use a voice input system as I'm looking at things like word prediction. And a lot of things have that built in, tablets have it built in these days, Google Docs, TextHelp is a great option for folks. It's more of you can do word prediction, it just helps you with that composition piece. And it does us provide some helpful tools, like it will read things to you. It does allow you to connect with voice input if you need to, but you might also look at text help.
Brian Norton:
That is something you have to pay for. And I think it's pretty expensive, a yearly subscription. Not exactly sure what the cost is to that, but it is something that you have to do and you have to pay for it yearly. And especially if you want some of the more advanced features, I think some of the free features are things that you can have exist in Google docs for free. But if you want any of the more advanced features you have to pay for it. But word prediction is pretty helpful. I noticed when I'm typing on my iPhone or my tablet these days, it says swipe to just add things in. And so there's a feature on the screen that's basically doing word prediction and wanting to auto complete my sentences and other types of things.
Brian Norton:
And a lot of times what I'm trying to type is, it comes up in that prediction list and I thought, "Wow, that's either creepy or it's pretty cool." Because it's helping me to be a little bit faster, and I just have to pay a little bit more attention to what it's trying to predict for me so that I can see if it is something I want while I've sped myself up, because I'm only doing one action, one keyboard keystroke, to be able to put whatever it's predicting into my text. And so anything that has word prediction, text help being one of those or the built in stuff is going to be helpful as well.
Brian Norton:
And then I do want to say, I'm not sure of the severity of the speech impairment here, but Dragon does learn how you speak over time. And so it can adjust accordingly depending on the severity level. And so maybe it doesn't work right out of the box right away, but if you use it and you continue to use it, it does have some learning capability to be able to kind of learn how you speak and recognize how you say certain words, and certain things. And so, again, depending on the severity, I wouldn't rule out dragon or the built-in speech input to whether it's Mac or Windows. You can sometimes have some success over time with some of those programs as that person tries to use it. So don't rule out Dragon. Dragon would be probably be the best one for this because it does some learning. I don't think the built in stuff does any learning with it, but don't rule it out. It might be a possibility depending on the severity of that speech impairment.
Belva Smith:
So I have two things I want to throw in, one of the typing aids, and those are like $24. It was maybe even cheaper, but I did just briefly look at Amazon and they are available on Amazon for $24. And the reason that I think that might be helpful with the fine motor skills is because a lot of times what I find with my older consumers trying to use the touch screens is a lot of times when they have to do a single finger tap or a double finger tap, they have difficulty doing that. But as soon as I put a stylus in their hand, they seem to be able to do it much better. So one of those really cheap slip on typing aids, which just has the one rubber pointer, and you can actually have one on each hand, if you want to use two handed typing, but you're only pressing one key at a time with that.
Belva Smith:
And you might find that they have some improved targeting with that. And then also they said Windows compatible solutions, AutoComplete, that's a great tool that is included with your office programs. So for example, if the individual types, some of the same things, which obviously they're going to type some of the same things all the time, but they've got like Easterseals Crossroads, always one word that they have to type you could go in and put ESC so that instead of having to type out the whole word, they're just typing the ESC, hitting the space bar and it fills it in with the Easterseals crossroads.
Brian Norton:
Yeah. I use a program like that and I do love it, if you're using redundant phrases is what I usually refer to them, if you write the same thing over and over and over again, man, it makes it so much simpler just to put an abbreviation in there and have it recognize those. So great, great point on that one as well. Hey, I'd love to just open this up. If you have been involved with similar situations or know of different types of technologies, apps, software, to help with situations like this, we'd love to hear from you. You can give us a call on our listener line. That's (317) 721-7124, or send us an email at tech@eastersealscrossroads.org. Love to hear from you. Thanks.
speaker 11:
And now it's time for the wild card question.
Brian Norton:
All right. So our next question is a wild card question, and this is an opportunity that Belva usually does. I've come up with a couple for this episode. And so I'm going to go ahead and ask the question and then these are obviously questions we haven't had any time to prepare for. And so I'll just see what you guys have to say about this, but I have found, I'm really trying to kind of reorganize my stuff and whether it's pictures, it's documents, it's movies, it's all this stuff that I've collected over the years. And I'm trying to figure out how do I want to go about storing it? And so my question for you guys today is how do you store your information, the pics, the documents, the movies, the things that you'd like to keep longer term, how do you go about storing those things? And so I'll just kind of open it up to folks.
Belva Smith:
So let me make sure I understand your question, Brian, how do I store my pictures and things like that?
Brian Norton:
Yeah. Just the things that you want to keep that are important to you, maybe they're tax documents, those types of things. Where do you put the things that you need to keep track of longer term, where do you store those?
Belva Smith:
Okay, well, my photos, I have entrusted Amazon Photos with those. And I'm hoping that that's not a mistake because there are so many places and so many ways that we can save that stuff, but I'm counting on Amazon Photos to keep all my photos safe for me. My documents and files like that. I keep those backed up on an external hard drive in my home. Probably not the best choice. In fact, some of the wiser folks that I know always, always suggest that you have more than one backup. Yeah, you should probably have two or three, one should be offsite. Well, now that we have so much online storage, that's pretty easy to do. However, I'm still not comfortable putting my personal stuff out there on the online storage places. So that's why I still use just an external hard drive at home.
Brian Norton:
Heard that oftentimes from a lot of folks too, is that you want, again, that onsite the online kind of offsite kind of backup multiple places just to make sure. Your house burned down tomorrow, well then your hard drive's going to be lost and you've lost all those pictures. And so the ones that's local. So having it stored someplace else would be important too. So yeah, good point.
Tracy Castillo:
I'm with you Belva, store your stuff in more than one place. So I have computers with hard drives in them that I don't want to do anything with the computer because the hard drive has pictures on it and I'm afraid that I'm going to lose my pictures. And I'm getting ready to take care of somebody like this, this exact same thing. And I said to her, "Your computer is old, you need a computer, but you don't want to lose your pictures. So this is what we're going to do, we're going to save the pictures that are on that computer to a flash drive. And then when we're done with that, we're going to take the hard drive out of that computer and put it inside an external hard drive case, and they have those on Amazon. So you're able to take your old hard drives and put them on there.
Tracy Castillo:
And then what you can do is you just plug it into your new computer. And if it's like, both of them are Windows computer, they should be able to read each other and you'll be able to have access to them." I don't use Amazon though for my cloud storage, I use another combination. I use Google and Microsoft. So I have two cloud storages and then lots of cards because my cloud storage kind of failed on me. I was going to print out some pictures of my anniversary pictures, and I went to look for them and they weren't there. And then I was able to find the memory card that has my pictures on it. And that's kind of scary because I'm not sure how long a memory card will hold information.
Brian Norton:
Yeah. Yeah. I mean, currently what I use, currently I've got a hard drive at home, like you said, Belva, but I find myself, I've got them so disorganized. Some things are on iCloud, some things are on OneDrive, some things are on Dropbox. I mean, they're everywhere and I'm looking for a way to kind of consolidate, kind of pull things in, and then once I get them all in one place, I'd like to organize those things. And man, it's just such a pain because I've got so many things stored, so many different places. It's really confusing at times.
Josh Anderson:
No. So mine's about the same as you guys. I use a mixture of Dropbox and Amazon Photos to really kind of keep those stuff. Some tax information and things like that, I print out every year and just throw in the safe just because when you're doing your taxes the next year, it usually ask you two or three things from it. And it's so much easier to just walk in there and pull it out than try to figure out which online service or hard drive I stuck that information on.
Belva Smith:
Well, and to be honest with my tax stuff, because I do my taxes online, sometimes I don't even worry about printing it out, because I know all I got to do is go back to the website login and there it is. So boom here, I'm talking about how I don't really trust putting that stuff out there in the cloud. Well guess what? It's stored on some tax prepares website, so what's the [crosstalk 00:50:11], right?
Josh Anderson:
And Belva, I do that too, but it always like to find out your identity or something. It makes you go back and find numbers from the year before. And it's so much easier if I just have that piece of paper, than have to get out of right where I am and into another part of that program. And then try to get back to that same page. Sometimes it's a real pain, because it takes me out then I'm back at a different page. So it's so much easier, I've realized just to have it sitting right there, because I never remember what it asks you. It's like a gross adjusted income or some number or something, but it's right there.
Tracy Castillo:
But when it's in a PDF file on your computer or on a flash drive, it's so easy to search for those keywords and find your gross adjustive income.
Josh Anderson:
True. True, true.
Speaker 4:
So yeah, Brian, I think it would be awesome if we all had one place where we kept everything, but that goes against all of our rules about trusting one area to keep everything safe. So we have to have more than one and then being able to organize once you've made your decision that, okay, my photos are going to go here, my documents are going to go there, then trying to organize and pull it all together is virtually impossible.
Brian Norton:
I know. Yeah.
Josh Anderson:
Well, and there's all also the problem and I think this was taught a few weeks ago when AWS had their big thing, you might have your stuff in three different places, but they're all AWS. So when AWS screws up and goes down, all three of them are gone. And you can't always find that information about what's actually controlling the thing you're doing, but I know a lot of things went down that weren't Amazon related in any way, shape or form. Because people didn't know that that company, that website, that business, that storage place, that whatever was using AWS. So when it had an outage, all those went down. So even if you diversify between three or four different web services, you might all be in the same boat.
Brian Norton:
True.
Tracy Castillo:
Pretty good, sort of, because when I even look at photos, I start getting nostalgic. I guess it's kind of like, you're a kid and you're trying to clean up stuff, but you're cleaning up your room, but something catches your attention and then you're stuck on it for 10, 15 minutes. And then whatever your mood may be, maybe the photo brought back some bad memory or sad memories, or just memories that you don't have your kids anymore, but son of a gun.
Brian Norton:
Yeah. So this happened to me probably about a month ago, my computer crashed. I lost quite a few things, most of my stuff is backed up and this has led me to this conversation about, I want to get everything in one place initially, so I can organize it. But then also then think about what's my second backup. At least I have it all together. And then where can I put it else? But you're right Belva, I have a gazillion websites I go to gather my information, right? And I use LastPass to help me with that because another issue I run into is, how many freaking passwords do I have to have to be able to kind of keep up with stuff. And so I have so many passwords, I've got to remember.
Brian Norton:
I try to make them unique and more difficult, including letters, symbols, numbers, upper case, lower case, all those kinds of things to make them more secure. But then it's like, how do I remember all of them? And so I've used LastPass, that does seem to help me at least with logging in to different websites. It makes it a lot easier for me to remember those things. And I love that at it auto prompts me when I go to a new website, I enter a password and a username. It says, "Hey, do you want to save this?" And I go ahead and say, "Yes." And it goes ahead and connects it to my LastPass, which is super helpful.
Belva Smith:
So I use LastPass too, Brian, and your primary password, that's always [crosstalk 00:54:01] because it's got to be like 99 letters long.
Brian Norton:
Yeah. That's true.
Belva Smith:
But I'm noticing now, I just recently did a setup on a new system for a consumer who uses Google, and Google now just like edge, everybody offers to save your passwords for you now. And we were able to just transfer not only his bookmarks, but all of his passwords right over from the old computer to the new computer, because Google has done a beautiful job keeping track of all that for him.
Brian Norton:
Huh. Yeah. That's cool. And I know Keychain does that for Mac, right? Doesn't it try to keep all those as well?
Belva Smith:
Yes. Yes.
Brian Norton:
And I think in the new version of their operating system, I think there's something new included that's specifically for passwords. I think it's in your operating system of some sort, I can't remember exactly what it is, but it's something, let me see if I can find it real quick.
Belva Smith:
Well, I know with Chrome [crosstalk 00:55:05], Chrome's the one I have the most experience with, but it has a password manager. So you could go in and see every website that you've allowed it to save a password for. You can edit it there, change it if you need to or delete it if you want to, which has virtually worked, well, no, I guess because LastPass does help us create what's considered to be a more secure password. And I don't think Google's doing that. I think Google relies on you to create the password, we'll just keep it for you.
Brian Norton:
Right. Right. I did look in my system settings and on the new Mac there is something in the panel there that comes up and it says passwords, and you have to have a master password to unlock it, but then I believe it will store those things for you. But anyways, hey, I'd love to just open this up to folks who are listening and ask you, how do you guys store your information? Those things that are important to you that you want to keep for the longer term, what do you do to be able to store those? Is it online, is it something local? Just let us know. We'd love to have you send in your answers to that. You can send us an email at tech@eastersealscrossroads.org, or send us a voicemail at (317) 721-7124. Love to hear from you. And before we are done with the show today, I just want to give our panel an opportunity to say goodbye to everybody. And so first off, we'll start with Tracy. Tracy, do you want to say a sayonara?
Tracy Castillo:
Adios everyone. Talk to you next time.
Brian Norton:
Excellent. Excellent. Josh, do you want to say goodbye?
Josh Anderson:
Hey, everybody. Thanks for listening.
Brian Norton:
Excellent. And Belva.
Belva Smith:
So this should be our last show for 2021. So-
Brian Norton:
That's true.
Belva Smith:
We'll be speaking again in 2022. Hope to see you all there, and everybody have a great, safe holiday.
Brian Norton:
Have a great one, guys. Thank you so much for listening. And we'll see you and talk to you guys in a couple more weeks.
speaker 11:
And it seems like every week we have at least one blooper. So here you go.
Speaker 4:
You are not having that conversation with your bosses.
Tracy Castillo:
Invite them.
Speaker 4:
Oh, my gosh, Tracy.
Josh Anderson:
How do you just mute one person?
Brian Norton:
I've always encouraged everybody to be open and honest, but now I think we're going to have to draw that back a little bit.
Tracy Castillo:
I didn't say anything wrong
speaker 11:
Information provided on Assistive Technology FAQ does not constitute a product endorsement. Our comments are not intended as recommendations, nor is our show evaluative in nature. Assistive Technology FAQ is hosted and produced by Brian Norton, gets editorial help by Josh Anderson and Belva Smith and receive support from Easterseals Crossroads in the end data project. ATFAQ is a proud member of the Accessibility Channel. Find more of our shows at www.accessibilitychannel.com.