Last week I wrote about Vision Buddy, which is the world's "first TV watching wearable headset virtual reality system for individuals with visual impairments." Another VR headset available for those with visual impairments is the Patriot Viewpoint.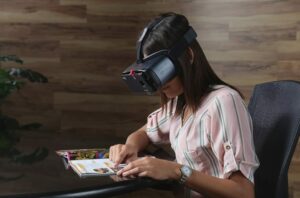 According to the product's website:
"This wearable Samsung virtual reality technology lets you be completely hands-free while doing the things you enjoy, both near and far!"
While wearing the Patriot Viewpoint, users can see family and loved ones' faces, enjoy the outdoors, watch television, enjoy plays, watch sporting events, read books and computer screens, continue hobbies such as painting, and so much more!
Overview of Patriot Viewpoint:
Wearable Samsung virtual reality headset that lets you be completely hands-free while doing the things you love such as reading, writing, watching television, painting, and much more
The device boasts a large wide-screen with a 101° viewable field, which is "the largest on the market"
1X – 20X magnification
11 high-contrast color modes
Comfortable fit with adjustable straps
Accurate and fast OCR reads text out loud
Auto power-off feature if the device is left on and still for 15 minutes
Autofocus camera
The device's battery life lasts about 2.5 hours
Click here to learn more!