There are so many different products available to help create a calming environment for individuals with or without special needs. Lightahead offers a mesmerizing solution with the Lightahead LED Fantasy Jellyfish Lamp. When you turn the lamp on, you can watch "jellyfish models swim quietly, creating a beautiful ambiance."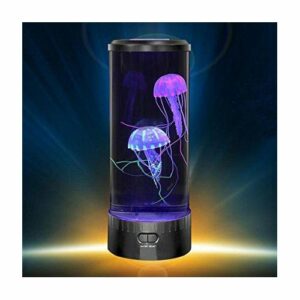 The lamp features 18 LED lights and five different lighting effects. Assembling the Lightahead LED Fantasy Jellyfish Lamp is simple:
Fill the tank with distilled or filtered water
Connect the AC adapter
Put approximately one tablespoon of liquid dish soap
Insert the jellyfish head down first and push them down with a straw
Close the lid and wipe the surface with a dry towel
Here's more from the developer's website:
"The quiet movement of realistic life like jellyfish in the tank with fascinating color changing lights create a beautiful, tranquil, peaceful,  soothing deep-sea ambiance which could help reduce stress and anxiety."
Overview of Lightahead LED Fantasy Jellyfish Lamp:
A calming sensory lamp which is ideal for individuals with autism, anxiety, dementia, ADHD, and more
Features 2 synthetic jellyfish with 18 LED lights (6 blue, 6 red, 6 green) and 5 mesmerizing color changing effects
Can also be used as a night light for kiddos
Operated by Adapter 110V 60Hz (included)
Measures 14.1 x 5 x 5 inches
Click here to learn more!