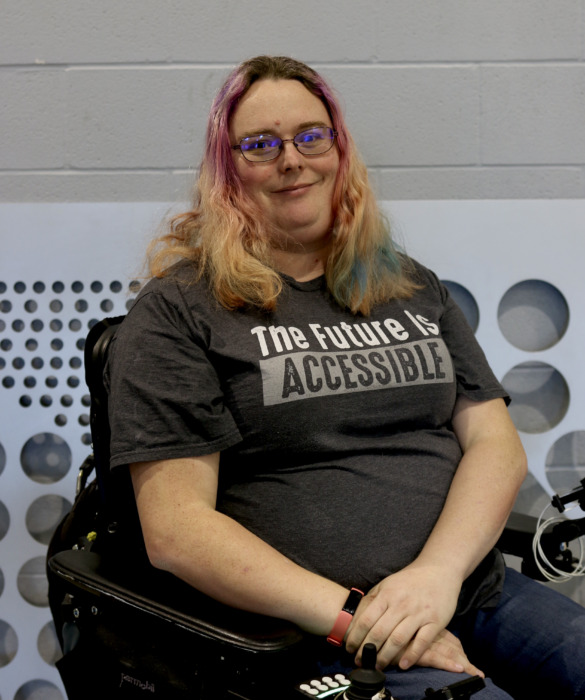 As a child, Jordan was more injury prone than others. She had "floppy reflexes" and could become injured very easily. She also always had difficulty writing and had an aide through high school. Jordan graduated from Muncie Southside High School in 2003 and went to Ivy Tech.
During that time, she also worked at Sallie Mae in IT and was volunteering as an EMT at a local fire department and worked special events during the race season which she loved. When she was let go from Sallie Mae, she decided to pursue working in emergency medical services (EMS) full time and became certified through the state as an Advanced EMT.
Jordan worked for many years as an Advanced EMT on an ambulance. She shared with me that she has autism and that this was helpful for her in this career path because she could see people having the worst day of their life and she could compartmentalize her feelings and get the job done. Jordan says her autism can often cause difficulty understanding social cues, but this was "my superpower in emergency environments. It was definitely a strength and made this a great working environment for me." I worked in many areas of emergency medical services over 13 years and loved the job.
Jordan said, "I started to have more and more physical issues while working as an EMT. I had been seeing doctors for years and when it started to become difficult for me to get in and out of an ambulance, I went to see a genetic doctor who diagnosed me with Ehlers Danlos Syndrome (EDS). I then learned that Ehlers Danlos Syndrome is a rare disease that causes hyper mobility. This makes a person prone to dislocating joints and soft tissue injuries. For me, my knees were affected the most. I wanted to get knee replacement but learned that there would be reoccurring damage and I would be very high risk for complications. Also, I was told that EDS patients often don't respond well anesthesia, so, despite doctors initially recommending the procedure, I could not find a surgeon who was willing to do it. I could not do the physical work required of an EMT, so I decided to go back to school at Ball State University.
Jordan shared, "I never wanted anyone to know I had any type of disability and when I had to start using medical equipment, I became very self-conscious. I had to start using full leg braces shortly after starting at BSU. I would wear very loose jeans to cover the braces so they would not be visible to other students. I was struggling to walk from class to class. I would use my handicap parking pass and drive from class to class if they were in different buildings. As my physical condition declined, I tried using a hover board to get around and carried a fold up cane in my backpack so I could use it as needed. I then declined to the point that I needed a cane full time and then forearm crutches. The forearm crutches were really hard on my wrist and hands.  My doctor kept recommending a wheelchair to keep her from straining and tearing ligaments."
Jordan wasn't doing well in school. She was always running late, not participating in events and doing the bare minimum because she was depressed about losing more and more physical ability and was unable to get around to participate. During this time, a professor gave a set of assignments that students need to interview other individuals that are different from you in areas of religious view, political views, different abilities, etc.
For the different abilities interview, Jordan interviewed someone who was a wheelchair user. During this time, her doctor was encouraging her to use a walker or rollator walker to prevent further injuries and also discussed using a wheelchair, which she was resistant to that idea. Jordan became friends with the girl she interviewed. She talked to her about the trouble she was having getting around on campus. "This made me realize how impractical it was for me to use a walker to get around and made me realize I was prioritizing the wrong thing. At some point I said to myself, "I need to fix my priorities, or I am not going to be successful in school or at home where I was also doing the bare minimum. Prior going to school, I had adopted 2 children and I could not keep up with them, or my home life in general. I was causing myself a lot of pain and wasn't able to participate in a lot of things. I talked to my doctor and made the difficult decision to stop prioritizing walking and looking "normal" so I could improve my quality of life."
Jordan said, "I ended up getting a power chair and it was very awkward going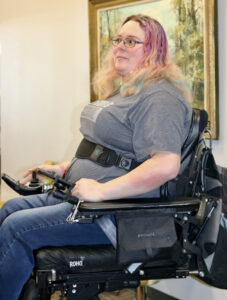 into my first class as I had always hidden my physical disability. I had to have some awkward conversations, but I started to see how much more I could do and had so much less pain immediately. The chair has been the best pain management ever." It also made accessibility so much easier for her as she can mount a full laptop and use alpha smart.
About a year after she first starting using a wheelchair, Jordan had an assistive technology evaluation with David Frye at Easterseals Crossroads. After meeting with her, he recommended the Mount N Mover so she could have access to the technology she needed to be independent. She said, having accessible technology was a game changer for me, allowing me to work without relying on somewhere to have a raised table, or other special accommodations."
Jordan is now a Ball State graduate and currently a graduate student. Her original goal was counseling and after finishing her undergraduate degree and an internship in rehabilitation counseling, she learned that she had a real passion for accessible technology. She is currently taking courses in special education, and digital fabrication.  Ball State does not have a formal AT program, but special education touches on assistive technology and the digital fabrication graduate certification through the college of architecture & planning deals with the accessibility of design. In addition, the university has been very supportive of her research in assistive technology.
As part of her course work, the class made a virtual floor plan design for MADJAX, which is a collective art and small business space in Muncie for members to "invent, build, collaborate, and share skills. They promote "design thinking and do-it-yourself spirit in our greater community." Jordan was instrumental in the accessibility aspect of the building renovation. She also created a virtual reality experience by taking the design plans and building a virtual reality application around them. The building plans could then be explored through virtual reality. Jordan was instrumental in making sure that design plans for MADJAX were accessible and MADJAX has already begun the work that her class designed, incorporating accessibility best practices that she recommended.
MADJAX has 1st Thursday events where artists and designers can showcase their work. During one of the 1st Thursday, Jordan's class hosted a booth to show the design work and her interactive experience through virtual reality. Jordan wanted to make sure the experience was accessible to everyone so she contacted the INDATA Project's Equipment Lending Library to borrow equipment that would allow her to set up an accessible booth.
She borrowed a large monitor and a laptop so she could magnify the plans for anyone with low vision. She borrowed an adaptive Xbox controller so anyone with a mobility impairment could control the virtual reality environment using hand controls and also borrowed switches that would allow someone to control the experience by a touch of the button. Ultimately, they had a very successful event that was accessible to people with varying disabilities.
Jordan will finish her graduate certificate this summer and her master's degree in a year. She hopes to become and assistive technology specialist so she can share her love for technology and her experience as an AT user.  She wants to work with people to create accessibility solutions in their home or work environment. "I want to educate people and empower them to make decisions for themselves."