Several individuals with (and without) disabilities often type using one hand.  While you can do this on a standard QWERTY keyboard, typing with one hand on the TiPY Keyboard is a lot more efficient.
TiPY's new key concept focuses on the most frequently used keys.  Further, it "makes typing and learning the TiPY key arrangement faster and easier."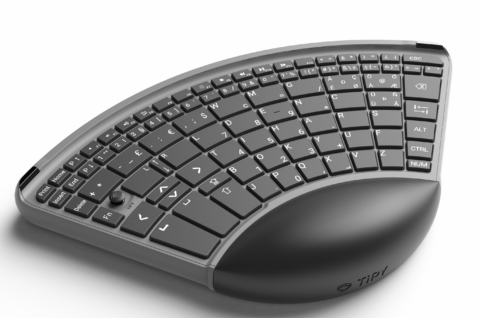 Here's more from the product's website:
"With the new key concept of the one-hand keyboard and integrated mouse function, you can edit all programs and tables, use keyboard shortcuts, type letters, texts and use all the advantages of your computer and a complete word processor in 12 languages…"
Overview of TiPY Keyboard:
A one-handed keyboard that works for individuals who are left or right-handed
Fully equipped with 12 languages:

Danish
Spanish
German
English
French
Icelandic 
Italian
Dutch
Finnish
Norwegian
Portuguese
Swedish

Has integrated mouse
Built-in numeric keyboard
The battery is connected via Bluetooth; you can use the included USB cable to charge your TiPY keyboard and also leave it directly connected to your computer
Their website offers free keyboard training here
Click here to learn more!
You can view our Tech Tip on this keyboard by clicking here.