AgrAbility is a program on a mission to "enhance the quality of life for farmers, ranchers, and other agricultural workers with disabilities, so that they, their families, and their communities continue to succeed in rural America."  On their website, you'll find The Toolbox Assistive Technology Database, which features several available products.  One of their products is the Mobi-Mat RecPath Rollout Pathway.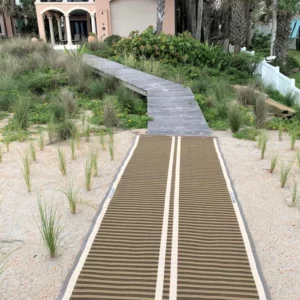 The Mobi-Mat RecPath is a portable, removable rollout beach access mat for pedestrians, individuals in wheelchairs, strollers, bicycles, and light all-terrain vehicles.  It provides a "firm, safe, cool and stable surface for a wide range of users…" 
Overview of Mobi-Mat RecPath Rollout Pathway:
You can place the mat walkway over sand, dirt, gravel, or grass

Made of 100% recycled PET bottles
Easy installation
Safe innovative 3-D design that will stay cool in the sun
The self-maintaining design remains on top of the sand at all times
Simple ground anchoring with spikes through stainless steel eyelets
Rapid 2 minute setup and pack up time using Mobi-Roll 'N Stow
Available from 16.5′ to 100′ interconnecting lengths
Resistant to rot, termites, UVs
Click here to learn more!