Whether you're measuring space in your living room to make sure a couch fits, or to see how wide a shirt is, people mostly use a tape measure for these tasks.  However, tape measures (or rulers, etc.) are manual and require using both hands.  If you're looking for a newer, easier way to measure something, check out Rollova 2.0! 
Rollova 2.0 is a pocket-friendly digital ruler that is designed to transform the way you measure things; it aims to make measuring simpler and more convenient.  This handy device boasts a large high-contrast OLED screen display, ideal for individuals aging in place or with low vision.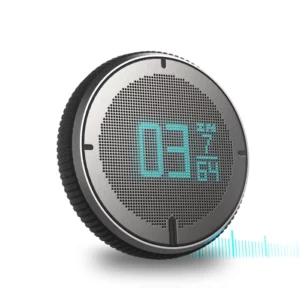 Here's more information:
"Rollova takes the pain out of measuring surfaces, materials, and objects.  With one easy roll at a time, Rollova provides you with an accurate measurement on its digital and high-contrast OLED screen."
Rollova 2.0 Digital Ruler Overview:
A digital ruler that makes it easy to measure curves, lines, and a variety of surfaces
Simply click the ruler on the back to get started then roll it across the surface and watch it capture the measure up to 999.9 inches/centimeters
Small in size: the unit itself measures 2.04 inches long, 2.04 inches wide, but 0.5 inches tall
Mainly made of a high-quality grade of stainless steel and a variety of sturdy and durable aluminum alloy
A large OLED display makes it ideal for individuals aging in place as well as those with low vision
Click here to learn more!