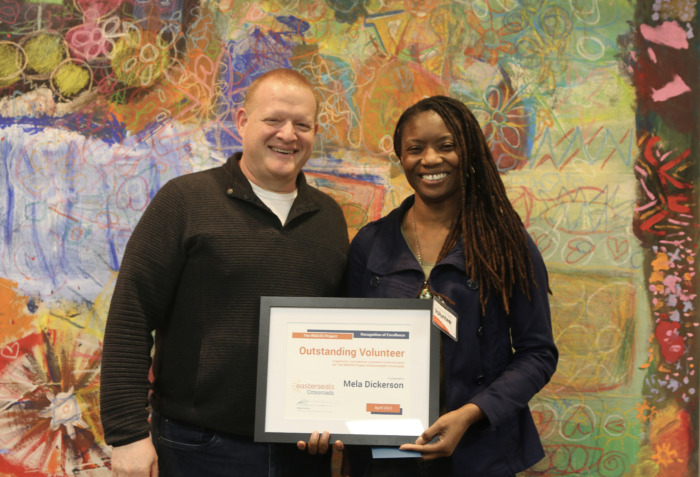 Pammela (Mela) was born and raised in Speedway, Indiana. She graduated from Ben Davis High School and earned a BA from Indiana University in Bloomington. After college, she worked in commercial printing and did so for 14 years. She then decided she wanted to pursue occupational therapy. She was accepted into the Master of Occupational Therapy program at the University of Indianapolis in 2021 and will graduate in 2024.
Mela learned about Easterseals' INDATA Project through her interest in assistive technology and an occupational therapist she knew got her connected with Easterseals Crossroad's volunteer coordinator to learn more about volunteer opportunities.
Mela then volunteered in both INDATA's equipment loan library and the computer reutilization program. She worked with individuals with disabilities to demonstrate how assistive technology could be helpful in their day-to-day life and she educated individuals about INDATA's programs and the type of equipment they may need to overcome a barrier. She spent a lot of time assisting staff in the library with a tough licensing issue with some adaptive software and helped maintain the online library by adding items into the library and determining older devices that needed to be removed from the library.
Mela said, "Volunteering in the DEPOT and the INDATA library, I've had the opportunity to improve my knowledge, skills, and experience. I have learned a great deal more about computers and the types of assistive and adaptive technology available by helping to upgrade computers (hardware and software) and organizing and cataloging items in the Library."
"This experience has also led me to reevaluate my professional goals. When I started in September, I was sure I wanted to specialize in AT, but now, I don't think I will. I don't think I need to. I still love assistive tech for its ability to add value to people's lives, increase participation, improve function, help create opportunities, and narrow the gap in accessibility. Certainly, OTs should familiarize themselves with the available AT for their clients, but programs like INDATA and clinical AT teams like the one here at Easterseals are invaluable tools an OT can use to assist clients when needed."
Mela is currently working as a remote agent for Aira, an assistive technology application for people who are blind or have low vision. She will continue her coursework to obtain her Master's Degree and said she will likely specialize in her other areas of interest, which includes hand therapy, neurodevelopment, and mental health.
Mela expressed that she enjoys volunteering and her time spent volunteering with INDATA was not only valuable to her as a student, but it has also given her the opportunity to show she cares about her community and what happens to those people in her community. Mela said, "Even if you are playing a small role, you are still a part of the machine that is making things possible for others. It is something I will always do, in one way or another."
We would like to take the opportunity to thank Mela for volunteering and acknowledge her as our 2021 Volunteer of the Year. Your dedication as a volunteer was appreciated and our team will not forget all of your time and hard work. Your contributions have made such a difference to the lives of people in our community. We wish you all the best in your future endeavors.