If you're looking for a way to make your home or building more wheelchair accessible, check out Roll-A-Ramp!  Roll-A-Ramp offers a "one-of-a-kind portable ramp for easy and convenient access into homes, buildings, vans, and more."
Roll-A-Ramp will always be portable and never permanent, so a building permit is not necessary.  It simply rolls up like a sleeping bag for convenient storage and portability.  Another neat feature is that you can change the length at any time by adding and removing links.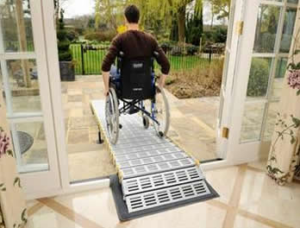 Overview of Roll-A-Ramp:
The aluminum ramp can be built to comply with ADA standards
Made from 6061 aerospace aluminum, the average weight is only 6 pounds for every 1 foot of ramp length
Ideal for:

Homes for temporary or non-permanent access
Public buildings
Visiting friends and family
Restaurants
RVs
And more

Lightweight: 8′ x 30″ portable ramp only weighs 46 pounds
Supports up to 1,000 pounds
10-year warranty
Add length or separate into shorter sections for easier handling
Non-slip in any weather; snow and rain drains through instead of collecting on the ramp
Raised ridges run across each tread providing great traction
Handrails can be added to one or both sides
Click here to learn more!