Utility carts are useful for organizing, storing, and moving things around almost every kind of work environment.  If you're in the market for a new utility cart, check out Kramble's Motorized Utility Cart.  
Their 24" x 56" Motorized Utility Cart can carry up to 2,000 pounds delivering 10.3ft-lbs of torque and can fit through a man door or in a passenger elevator.  It's also available in 33" x 60" with dual motors delivering 20.5ft-lbs of torque.  All of their carts use a pallet jack handle assembly with a thumb throttle.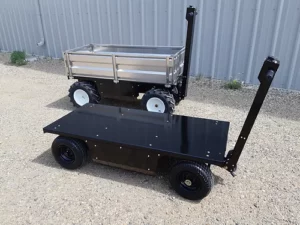 Overview of Kramble Motorized Utility Carts:
The cart can serve whatever you need.  Their customers include:

Manufacturers
Machine shops
Hospitals
Electrical utilities
Contractors
Campgrounds
Film production and backstage use
Moving luggage
And more

Keyed ON/OFF switch
LED power level indicator
Variable speed
12VDC electric rear-drive
Water-resistant smart charger
Stainless steel drive chain
Rugged 16″ tires
Max 2,000 pound capacity
Single motor 10ft-lbs torque
Dual motor 20ft-lbs torque
Optional:

LED magnetic spotlight kit
Alternate chain drive ratios for power vs. speed
Additional batteries for extended range
Custom-designed maintenance cabinets are available
Toolbox and tarp covers available
Custom paint colors are available
Aluminum standard and powder-coated steel are available
Click here to learn more!