If you're looking for an app that turns any children's book into an audiobook, check out the Storyteller Read Aloud to Kids app!  With Storyteller, you can scan any print book from your personal library and the app will read it aloud to your child.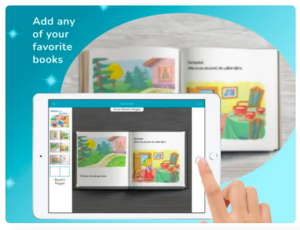 According to the App Store's description:
"Storyteller provides an opportunity for children to be independent in consuming their books, so kids can listen to any story at any time and as many times as they want, without any assistance from an adult…" 
This app is ideal for bedtime stories and reading on the go.  It is not intended to replace the print book but rather to help children read independently.  Further, it allows users to develop their reading skills as they follow along with the words on the page.
Overview of Storyteller Read Aloud to Kids App:
Ideal for children of all ages; younger children may require the help of an adult to set it up for them
Once a book has been scanned into the app, it is saved in the app's library and can be revisited whenever
Ideal for children who have any learning or reading difficulties
According to Educational App Store, the artificial intelligence voice "does not sound like a traditional AI voice"; the voice sounds more natural
The free version gives users access to 3 books and then after that, you can buy a subscription for unlimited access
Check it out on the App Store to learn more!