Many individuals cannot operate traditional switches and buttons.  If you or a loved one have limited movement, check out the HoneyBee Switch.
The HoneyBee Switch is an "innovative, easy-to-use" switch that senses the proximity of a hand, finger, head, foot, etc.  To activate the HoneyBee Switch, the user simply places his or her hand, head, or another body part over the sensor window.  An audible tone will sound when there's activation.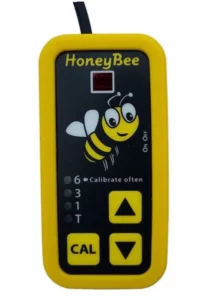 The device is powered by a standard CR2032 coin cell battery, readily available from many retail stores.  Under normal use and depending on the range setting, battery life can range from several months to several years.  
Overview of HoneyBee Switch:
Easy-to-use switch that senses the proximity of a hand, finger, head, etc.

The sensing range can be adjusted for any of four distances, allowing for multiple positioning and access needs:

6 inches

3 inches

1 inch

Touch

Comes with device, CR2032 battery, 30-inch cord, removable protective silicone cover

Can be plugged into any communication device, adapted toy, or computer interface that has a standard ⅛ – inch jack
Click here to learn more!