Traditional toothbrushes are not always ideal for individuals with oral sensitivities.  If you or a loved one have autism, Alzheimer's, or other special needs, check out the Collis Curve Toothbrush.
The Collis Curve Toothbrush is a three-sided toothbrush that features short center bristles to clean occlusal surfaces and two outer rows of curved bristles.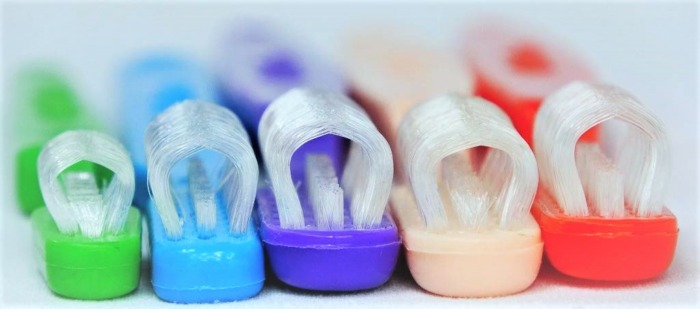 Here's more about the development of this toothbrush:
"For many years, American dentist George Collis felt that toothbrushes were difficult for his patients to use. The complicated 'scrub and roll' technique was challenging to teach to children, and many adults also failed to apply it properly. Drawing from his experiences trying to brush his elderly father's teeth, who had been diagnosed with Parkinson's at the time, Dr. Collis invented the first ever 3-sided curved bristle toothbrush…"
Overview of Collis Curve Toothbrush:
The two outer rows of curved bristles gently nestle their way between the tooth and the gumline to remove plaque and food debris from the sulcus
Cleans around braces, crowns, and implants
Quick and easy brushing technique
Reaches into pockets and recessed gumlines
Adaptive device for limited manual dexterity for persons with Parkinson's, arthritis, and more
Variety of options to choose from:

Baby:

Ages 4 months – 5 years
Great for assisted brushing
Easy handle manipulation

Youth:

Ages 5 – 13 years old
Start using when the first molar appears

Soft:

For sensitive or bleeding gums
Light massaging action on gums
Increase gumline blood circulation

Medium:

Stiff bristles flick plaque away
For already healthy gums
Hugs teeth for "superior cleaning"

Periodontal:

Longer medium bristles
Gets around braces, implants, and other dental appliances
Reaches deep into pockets
Click here to learn more!