Unbuckling car seats can be challenging for individuals with arthritis, poor dexterity, and more.  Shark Tank featured a revolutionary product that can make unbuckling car seats easier: introducing UnbuckleMe!
Federal Motor Vehicle Safety Standards (FMVSS) require infant and child car seat buckles to require a minimum release force of 40 Newtons or about 9 pounds to unbuckle the car seat. This force is higher than most activities of daily living.
UnbuckleMe was invented by an occupational therapist who had spent her career adapting equipment for patients with disabilities of the hand.  She created this small tool that uses leverage to make it easier to unbuckle car seats.
Here's how it works:
Lift and position over the side of the buckle

Center over the buckle and press the farthest ends together

Pull the harness clips out to release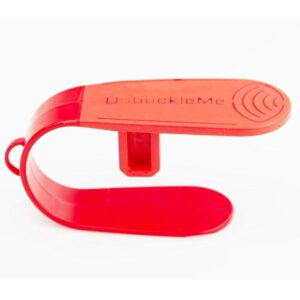 Overview of UnbuckleMe:
Features a soft, grippy top surface designed for comfort and stability
It can be used with one hand and even squeezed with fingers and the palm at the hand (using no thumbs at all)
Uses a type II lever (the same concept as a nutcracker) to reduce the force by more than 50%
Works on a wide range of car seats and push-button buckle shapes, as well as many strollers, high chairs, and other push-button devices
Invented by an occupational therapist who has arthritis in her thumb
It's ideal to keep the small tool readily accessible to use when you need it, but make sure it also remains out of reach of children when not in use
Click here to learn more!