Last week I wrote about Notion, an "all-in-one workspace productivity app."  Another available productivity app is Todoist.  Todoist is a "simple yet powerful" task manager and to-do list app. 
With Todoist, you can easily organize your professional and personal life.  You can quickly add tasks like "read work emails every day at 10 am".  Your to-do lists are automatically sorted into Today, Upcoming, and custom Filter views to help you focus on your most important things.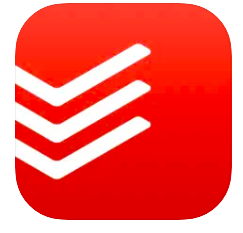 Todoist is available on any device – as apps, extensions, and widgets – making it even easier to organize your work and personal life.  
Overview of Todoist:
Use the Quick Add feature to capture and schedule tasks the moment they pop into your head

Add tasks using the app's robust everyday language recognition and recurring due dates

Link Todoist with your calendar, voice assistant and 60+ other tools such as Slack, Gmail, Outlook

Collaborate on projects of all sizes by assigning tasks to others; you can also leave comments, voice notes, and attach files to tasks

Project templates are available to help you tackle everything (from meeting agendas and accounting tasks to packing lists and wedding planning)

Stay organized on your iPhone, iPad, and Apple Watch, while also syncing across desktops and all other devices

Location-based reminders available on the Pro version
Click here to learn more!