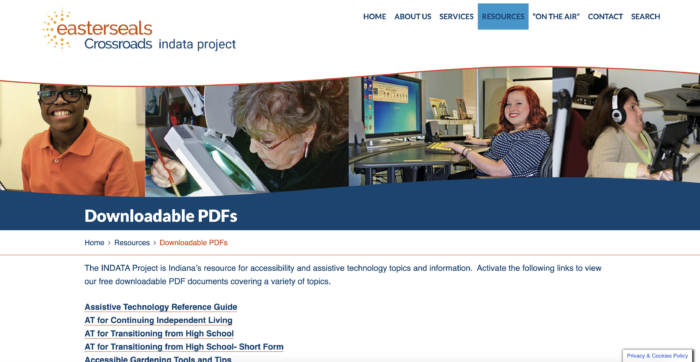 As the Assistive Technology Act for the state of Indiana, one of our main goals is to increase awareness of assistive technology. We have many ways in which we spread information about assistive technology such as this blog, our assistive technology tech tips, full day trainings, and podcasts.
An additional resource we create to educate people about assistive technology is free downloadable PDF documents on a variety of topics. These documents are available on our website under our resources tab and provide assistive technology information for work, school, home or in the community.
Whether it's an Assistive Technology Reference Guide, which is a comprehensive overview of assistive technology or more specific topics such as Accessible Telehealth and Online Tools, we create these downloadable documents to create awareness about technology tools, devices, and resources available to increase someone's independence.
We welcome you to take a look at our downloadable PDF's. Please feel free to save, print, and share them. If you have any content you would like to see here in the future, please email your suggestions to us at tech@eastersealstech.com.