If you're looking for an easy-to-use Braille label maker, check out the 6dot Braille Label Maker from Logan Tech.  This portable Braille label maker has a built-in Braille keyboard that supports all grades of Braille in "virtually every language."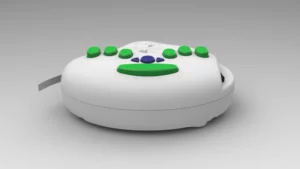 It features six good-sized Braille keys on top of the device.  The Braille keys are well placed to allow for easy two-handed typing with a spacebar right below the keys, ideal to be pressed with either thumb.  There is also a tactile ON/OFF switch on the label maker's right side.  
In addition to typing directly on the device, you may also attach a QWERTY keyboard.  This allows non-Braillist users to generate labels as well. 
Overview of 6dot Braille Label Maker:
The automatic cutter provides effortlessly clean label cuts without the need for scissors

Ergonomically designed to be portable and easy to use anywhere

Built-in Braille keyboard supports all grades of Braille in virtually every language

Powered embossing for "high-quality" Braille for accurate reading and a long lifespan

QWERTY keyboard connectivity option enables users who cannot write Braille to generate labels

Dual power options: AC/DC adapters or 6 AA alkaline batteries

Uses standard ⅜ inch (9mm) vinyl embossing label tape

Comes with:

Braille Label Maker

Power adapter

10 rolls of DYMO embossing tape

1-year warranty
Click here to learn more!