Pok Pok Playroom is an app that aims to help children learn through open-ended play.  Kiddos tap or swipe to explore virtual experiences like creating music, drawing, or engaging with toys, people, animals, household items, and more.
Just like in your playroom at home, children will play pretend, develop social skills, tell stories, solve problems, learn about the world, and invent new things.  The Pok Pok toys found within the app are designed to grow with children so they never get bored or outgrow them.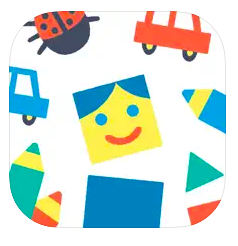 Here's more from the developers:
"We design every toy together with kids, educators, neuroscientists, occupational therapists, and creativity scholars to make sure kids can learn, create and play freely without feeling overstimulated…"
Overview of Pok Pok Playroom:
Kids get to think outside the box and push their imaginations to the limit
Handcrafted art and sounds captivate and engage kids without overstimulating them
There's something to discover for all ages, in all toys; the more curious a child is, the more he or she will learn
Open-ended play promotes cognitive development and socio-emotional skills that children will carry with them through life
"Safe and calm" experience for children ages 2-6
Start with a 7-day free trial
No ads
Click here to learn more!