If you or a loved one have poor dexterity, loading pills in a traditional pill organizer can be challenging if not impossible.  If you're looking for a solution, check out the Sagely Smart XL Weekly Pill Organizer.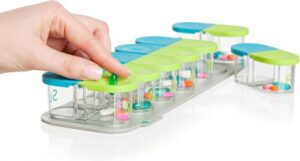 Sagely features a clever design that allows you to count your pills on top of the lid.  Once you're finished counting them, simply push the pills through the lid to load them. Unlike other organizers, lids on the Sagely are easy to open and close so you can easily retrieve your meds.
Another neat feature of this organizer is that it pairs with the free Sagely Reminder App so you never forget to take your medication.  To set it up simply:
Input your medications
Set when you take your medications
After it's set up, a notification will pop up on your phone whenever it's time to take your pills.  After you take your medicine, dismiss the notification.
Overview of Sagely Smart XL Weekly Pill Organizer:
Ergonomic design created with ease of use in mind
Ideal for individuals with arthritis, carpal tunnel, and other manual dexterity issues
Large, easy-to-grip size
Flexible push-through lids
Magnetic base to keep it all together
Individual containers can be removed from the base for people on the go
Free Sagely Smartphone Pill Reminder App available for both iOS and Android devices so you never forget to take a dose
Click here to learn more!