Renpho is a company that was created from a simple idea: to give people affordable lifestyle products that would improve users' health by being a simple add-on to their regular activities.  One of their available products is the Renpho Eye Massager.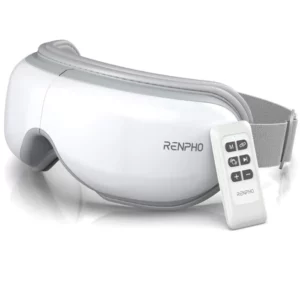 The Renpho Eye Massager targets acupoints so that it can alleviate tension and reduce headaches.  Oscillating trigger point pressure and built-in heating pads provide a comfortable temperature between 104 and 107°F.  In addition to reducing headaches, the massager can also help relieve eye strain, eye puffiness, dry eyes, and more.
It features a 180° adjustable and portable design.  It can be folded into a smaller package so you can easily take it with you to the office, on a plane, or anywhere you go!  
Overview of Renpho Eye Massager:
Comes with built-in music speakers and Bluetooth functionality to connect wirelessly to your smartphone or other media device

Music can  help reduce anxiety and the physical effects of stress

The headband is easily adjustable

Not recommended for individuals who've undergone eye operations, or have a retina condition, cataracts, glaucoma, etc.
Great for relieving eye strain, eye puffiness, dry eyes, migraines
Click here to learn more!