Traditional smartphones can be too complicated for individuals aging in place and more.  If you're looking for an easy-to-use phone, check out the RAZ Memory Cell Phone.  
The RAZ Memory Cell Phone makes it easy to place calls: simply touch the picture of the person you're trying to call.  Contact names are found below pictures.  The combination of pictures and names makes this phone ideal for users with memory loss.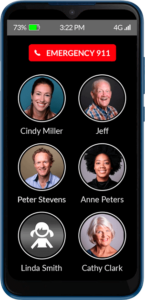 Whenever the phone rings, two large buttons will appear.  A green one that says "Answer" and a red one that says "Hang up."  If the caller is a contact, a big picture, and the name of the caller will show up.  
Features of RAZ Memory Cell Phone include:
Set reminders that will appear as sticky notes on the phone; you can also create audio reminders

Caregiver can receive a text message when the battery of the phone is less than a specified amount

If predatory robocalls calls are a concern, block incoming calls from anyone other than contacts and selected numbers

Track your loved one's location by tracking the phone at no additional cost. The location will be updated every 15 minutes

To call 911, the user presses and holds the dedicated 911 button

The intuitive app and online portal allow caregivers to manage contacts including pictures and other options
Click here to learn more!