Many kiddos do not enjoy going to the dentist – this is especially true for individuals with autism.  One way to get them ready to go to the dentist is Melissa & Doug's Super Smile Dentist Kit.  This 25-dental care play set features an oversized set of pretend teeth so children can give cleanings, treat cavities, and even fit retainers and braces!
Here's more about Melissa & Doug:
"From classic wooden toys to realistic pretend play sets, Melissa & Doug products spark imagination and wonder through screen-free, open-ended play! We make well-crafted toys that are developed with care to be passed down from generation to generation or shared family to family. When kids pretend with Melissa & Doug, anything is possible!"
This playset is a fun and engaging way to teach good dental health practices and to help ease children's fears associated with going to the dentist.  The Super Smile Dentist Kit includes pretend teeth, "cavity" stickers, examination tools, a toothbrush, toothpaste tube, dental rinse bottle and cup, 2 gauze pads, 2 tooth polish cups, top and bottom retainers, and braces.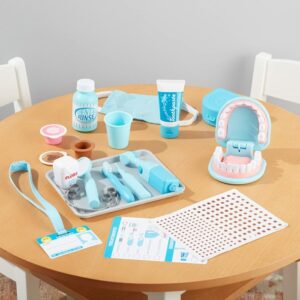 Overview of Super Smile Dentist Kit:
25-piece dental care set that can teach good dental health practices and help ease stress associated with a visit to the dentist
Mark the pretend teeth with the dry-erase marker, then use a vibrating tool with interchangeable polishing and drill heads
Sparks a child's creativity and imagination
Includes:

Set of pretend teeth
"Cavity" stickers
Toothbrush
Toothpaste tube
Examination tools
Dental rinse bottle and cup
2 gauze pads
2 tooth polish cups
Top and bottom retainers and braces
Mask
Reusable ID tag on a lanyard
Double-sided reusable activity card

Back 4 teeth wiggle and lift to practice pretend extractions
Great for children ages 3 and up
Click here to learn more!