Organizing your medication doses into days of the week is likely something you're familiar with.  Remembering actually to take your medication is not quite as simple.  This is where TabTime Super 8 comes in.
The TabTime Super 8 pill box features a reminder alarm so you always remember to take your medications as scheduled.  It is designed with portability and practicality in mind.  
The device was designed in 2001 when the owner wanted to develop a "simple device to remind him when his post-op medication was due. As a result, TabTime Super 8 was born, combining a sectioned pill box with a reminder alarm that fits neatly into your pocket or purse. Integrating 20 years of customer feedback, we've since modified and perfected the device to make managing your medication the easiest thing you do every day…"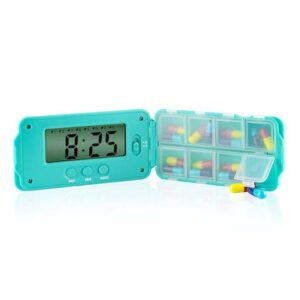 There's no complicated programming here.  Simply set the clock and then up to 8 alarms each day.  The large screen features an easy-to-read digital time display and a low-battery alarm to let you know when you need to replace the battery.
Overview of TabTime Super 8 Pill Box:
Up to 8 fully programmable daily alarms for multiple reminders on the go
An additional countdown timer for regular or timed interval doses
Audio and visual alarms so you never miss a dose (visual LED reminder light continues to flash until the pill box is opened, so you know if you've missed an audio alarm)
Magnetic, easy-open clasp to help those with hand tremors or reduced strength
Simple 3-button design for easy set-up and daily usage.
'Set it and forget it' – Set an alarm once, and it will repeat at the same time daily until changed or turned off
Adjustable volume settings for those who may be hard of hearing
Battery life indicator to ensure you never run out of power, with an easy access compartment for trouble-free battery changes
Click here to learn more!