Taptilo is a smart braille device that makes it "fun and easy" to learn braille.  Braille beginners can learn braille patterns with the interactive braille display and audio feedback.
According to the device's website, "Learning braille with Taptilo significantly reduces the average learning period! The average learning period decreases a half, compared to the traditional method."  Additionally, the learning dropout rate is decreased by 20%.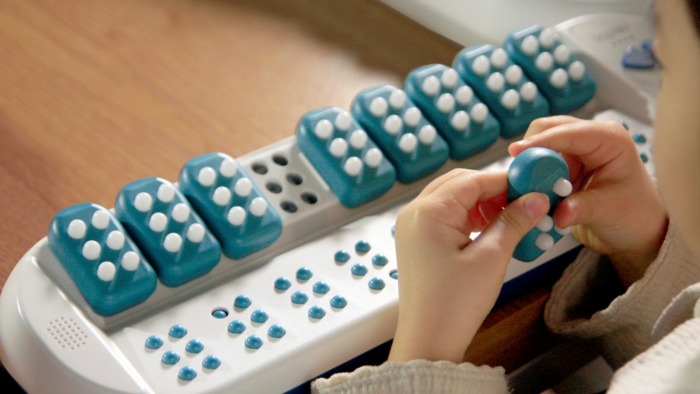 The device features a refreshable braille display on the bottom row, as well as removable braille blocks on the top row.  The removable blocks can be used to represent a letter, word, or number.  Along with the jumbo-sized braille blocks, tactile guidance, and audio guide, braille beginners can easily follow pre-made curriculums in Taptilo.
With Taptilo 4.0, remote education is available! Just connect the app with Taptilo device. You can teach & learn braille anytime, anywhere!  After connecting the Taptilo device to the app, simply select or type a word in the app and the device will translate it for you.  Braille beginners can also customize their studies by choosing various options.
Overview of Taptilo 4.0:
Interactive audio guide and tactile guidance available

Self study mode leads braille beginners to start learning within a second

Includes dots, numbers, alphabets, and 800+ essential words

Easy to customize learning material with free mobile app

Easy to carry with portable design along with its case
Click here to learn more!