There are several smart pill organizers available on the market, such as Hero or MedaCube.  Another available option is the Carroself Smart Pill Dispenser.  The Carroself dispenser is the "efficient way to take care of yourself."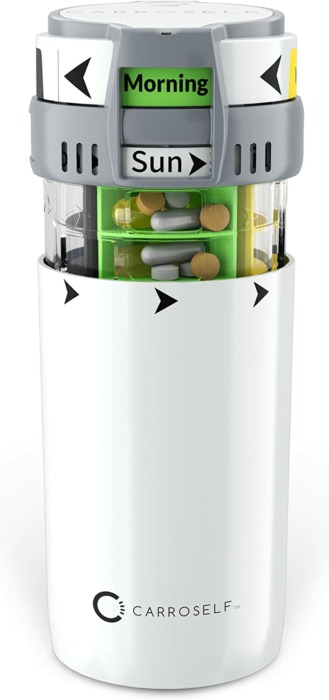 According to the product's website:

"The Smart Pill Dispenser of Carroself provides a change in the perception of existing pill organizer boxes and enables you to organize and take your pills and medicine without the fear of opening, scattering the pills, and confusion while taking them…"
To use the dispenser, twist the lid to the current day of the week.  Next, twist the lid to select the time you are taking the medicine.  After selecting the current day and time, pull the dispenser out of its case.  Once you pull it out, the cell containing your medicine will be open.
In order to fill the dispenser, twist the lid until you see the "FILL" option.  You can then pull the desired cartridge out for easy filling!
Overview of Carroself Smart Pill Dispenser:
Supports up to 4 doses a day

Made from premium plastic and  food-grade materials

Travel-friendly 

Removable cartridges for easy refill

Cells in the dispenser are deep enough to hold up to 12 pills (depending on the size)

Includes sets of stickers that allow adjustment to different intake times, making monitoring and organizing your pills "a breeze"
Click here to learn more!