SmartWay Solutions has been manufacturing "inventive quality" residential thermostats and HVAC monitors since 1995.  One of their available products is the Talking Thermostat VT3000.
The Talking Thermostat VT3000 is a battery-powered digital thermostat for controlling single and multi-stage heating and cooling systems.  Its unique audio playback assists users in setting up and maintaining precise indoor temperature management.  
It's designed with "clear, concise, easy-to-follow voice instructions to guide you through comfort control adjustments which will help you avoid overpayments."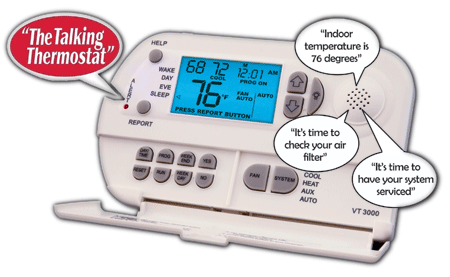 A neat feature of the Talking Thermostat is that when you press the HELP button, the thermostat conveniently plays back the name and phone number of your local service provider.  It will also remind you to change your air filter (and the UV light bulb if you have an air purification system.)
Overview of Talking Thermostat VT3000:
Easy talk-through instructions allow you to easily adjust the comfort level in your home, day and night, without ever having to hunt for an operations manual

Adjust temperature automatically for wake-up, leave, return, and sleep times to maximize your comfort and lower utility bills

Friendly audio and display alert reminds you to change your filter

"LO BAT" displays and voice alert indicates when replacement batteries are necessary

Built-in time delay prevents "short cycling" damage to your most expensive system component, the outdoor compressor

If your Talking Thermostat is turned off, it will still automatically turn the heat on if the indoor temperature falls to 40ºF

If conventional operation is preferred, change it to a manual thermostat by pressing the ON/OFF button until "Program is OFF" is heard
Click here to learn more!