Going to medical appointments can be intimidating and scary for kiddos.  Simply Sayin' is a valuable resource that can help medical professionals explain common procedures and surgeries to patients and their families to help ease anxiety.  
Simply Sayin' is a free app that was developed by Certified Child Life Specialists at Phoenix Children's Hospital.  It features pictures you can draw on, sounds you can listen to, and a family-friendly glossary of medical terms for easy reference.  It can help medical professionals provide developmentally appropriate explanations of medical terminology and common procedures.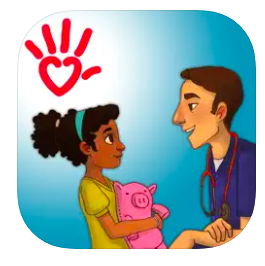 Within the app, there are four menu items to choose from:
Alphabetized Glossary: links to simple explanations, illustrations, and photographs.  Some of the terms also link to anatomical images where drawings can be added and include the necessary preparations for procedures and photos
Preps: links to easy-to-understand explanations of the procedures, why the procedure is necessary, what your job is during the procedure, and things that can help when having the procedure
Drawings: links to illustrations that can be used to help explain a procedure
Pictures: includes photographs of actual procedure rooms and equipment found in the rooms
Click here to learn more!