Yesterday I wrote about the Boil Alert Disc listed on the Blind Kitchen's website.  Their website also features a set of wet measuring spoons, a small pitcher, and a mini funnel that makes measuring liquids "simple and accurate, with less waste and mess."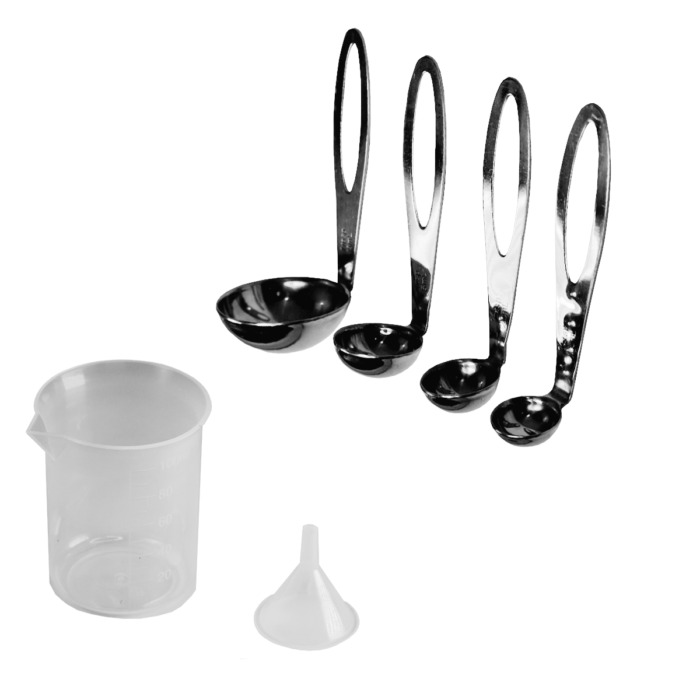 The wet measuring spoons are easy to identify because of the tactile raised dots on the handles.  To use the spoons, simply run your finger along the handle closest to the scoop of the spoon and count the raised dots.  Four tactile dots indicate the quarter teaspoon; two dots indicate the half teaspoon; one dot indicates a full teaspoon; and the tablespoon has no dots.  The sizes of the spoons are also indicated with embossed fractions.
Unlike traditional measuring spoons, the handles of these spoons are attached upright at a 90° angle, which allows them to be set inside the included plastic cup.  Any excess liquid can then be transferred back to the original container using the mini funnel.
Overview of wet measuring spoon set:
Spoons are clearly marked with tactile dots as well as fractions
Made of durable food-grade stainless steel
Dishwasher safe
Stain and rust-proof
Easy to hold with upright handles
Nest together or can be hung
The set includes a small, dishwasher-safe plastic pitcher
Dishwasher-safe mini funnel for transferring excess liquids back into bottles
Click here to learn more!