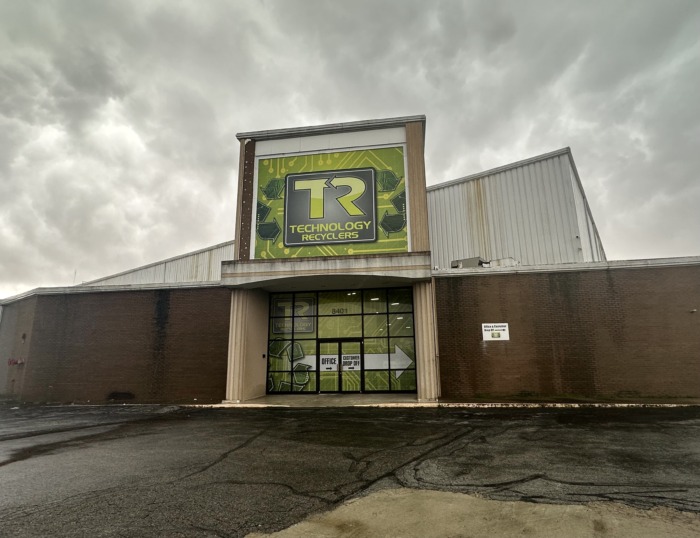 Earth Day is celebrated on April 22nd to remind society to fight for a clean environment. One of the ways we can help in that fight is to make sure we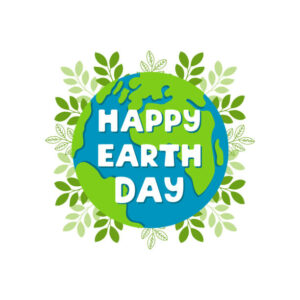 recycle appropriately. Here at the INDATA Project at Easterseals Crossroads we not only help people with disabilities get free computers, but we are also active participants in making sure any computers or computer parts we can't use don't end up in a landfill by working with Technology Recyclers to recycle responsibly.
INDATA operates an equipment reutilization program that takes in donated computers, CCTVs, video magnifiers, and other assistive technology devices and provides them at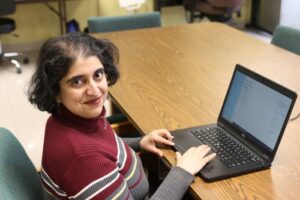 no charge to individuals with disabilities who live in state of Indiana. Once donated equipment is received, our staff refurbishes the equipment and computers are wiped of all previous data to ensure that everything is in working order and to protect the privacy of those who donated.
Anything that is donated and unable to be used is then recycled with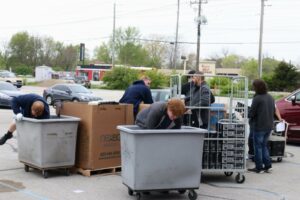 Technology Recyclers to ensure that they don't end up in a landfill releasing harmful elements such as lead and mercury into the environment. Technology Recyclers is a local, veteran-owned business that offers corporate/business E-waste pickup services, community drop off events, and residential drop offs at their facility/ E-waste is electronic products that are unwanted, not working, or at the end of their useful life and Technology Recyclers help us decrease E-waste by safely managing old electronics and turning them into valuable materials for manufacturing new products.
When we have collected a large amount of computers to recycle, we schedule with Technology Recyclers to come and pick it up. They will schedule large business pick-up anywhere in the state for free. They also allow drop offs at their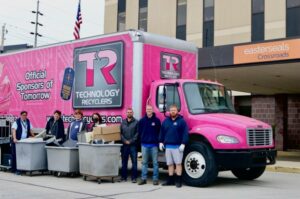 facility, which is open to businesses and the public where items can also be dropped off for free. There is a fee of $20 to get rid of televisions and monitors as they have toxic materials in them and have to be sent off to be disposed of properly.
To honor earth day this year, we took a tour of the Technology Recyclers to learn more about their business and recycling processes. Their large facility is on the east side of Indianapolis at 8401 E Washington Street Indianapolis, IN 46219.
Upon arrival, we were greeted by the owner, Dale Needleman, Partner/Business Development Manager who toured us around the warehouse. When asked what could be recycled Dean said. "We will accept any equipment that has a cord or has ever been plugged in." He also shared with us that it is illegal to put a cord, charger, or mouse in the trash. On the tour, he showed us the drop off area where the public can drop off e-waste for free at their facility and gave us an overview of their services:
We then got to see where items are shredded and the large machinery that separates the shredded materials based on the type of material. It was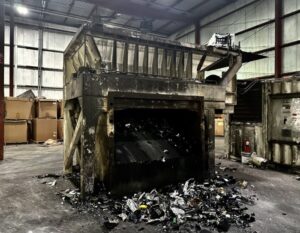 fascinating to see the large shredder that could shred a Volkswagen Bug and to learn how their machines are set up to separate the different materials by color or weight.
We learned prior to shredding anything, the staff goes through each item to remove batteries. This is a tedious process that is done by hand by the warehouse staff. Batteries must be disposed as hazardous waste prior to shredding because it can cause a fire if they end up in the shredder and must be identified as hazardous waste.
At the end of the tour, Dale mentioned that in May 2022, Technology Recyclers set a new world record where 2,910 laptops toppled in a domino fashion. He told us this was exciting for his staff and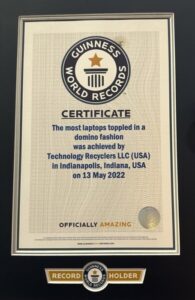 quite a team building experience in making sure they were all set up correctly. They were, of course, all disposed of properly after this exciting event for their staff.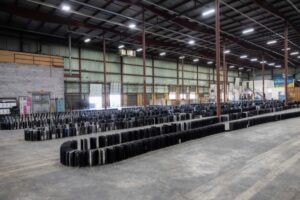 We want to thank Technology Recyclers for providing such a great service to us for all these years. It would be cost prohibitive for us to do this ourselves and not only is it the right thing to do, it's the law. In 2011, the state of Indiana made it illegal for households, public schools, and small business to throw old electronics away or burn them.
Are you looking for a great way to celebrate Earth Day?
Consider supporting our efforts in getting refurbished assistive technology in the hands of individuals with disabilities and know that anything we can't use will be recycled responsibly.
Click here to donate or receive a computer
Click here to learn more about Technology Recyclers
Happy Earth Day!