Clevy is a brand that was created to make technology more inclusive and assist individuals with special needs by providing special solutions for people who need them.  One of their available products is the Clevy Keyboard.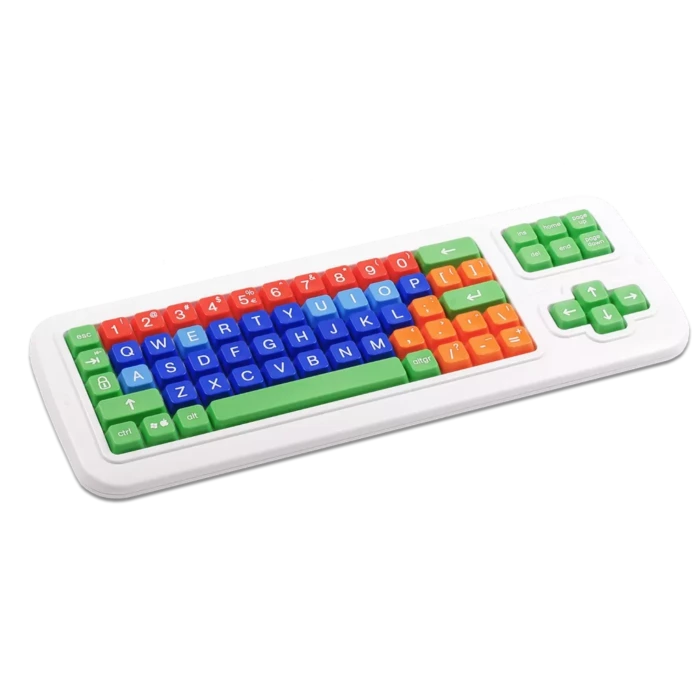 Clevy's mission is:
"…to ensure that everyone can access and benefit from technology, regardless of their abilities or disabilities. We believe in the power of technology to empower individuals and enhance their quality of life. At Clevy, we understand that accessibility is crucial in achieving our goal of inclusivity. We strive to design and develop solutions that are accessible to a wide range of users." 
The Clevy Keyboard is a "strong, durable" keyboard that looks appealing by the colors which makes it fun to use for children.  The keys on this keyboard are 30% larger and the characters on them are up to 4 times as big as those on a traditional keyboard.  Additionally, the keys are arranged vertically to improve the positioning of the hands of a child and to make the appearance less cluttered.
Overview of Clevy Keyboard:
Different colors on the keyboard represent different functional areas, making them easier to distinguish
The lower-case font of the characters is similar to the font used in traditional education of handwriting
The keys are arranged vertically to "improve the positioning of the hands and to make the layout less cluttered"
Keys are 30% bigger and the characters are up to 4 times larger than those on a traditional keyboard
The keyboard has internal steel frames and each individual key is mounted onto a high-quality, mechanical switch capable of handling well over 60 million keystrokes

Traditional keyboards usually use membrane-type internal switches, making them "far less durable and consistent"

Designed to guide possible spilled fluids straight through the keyboard, keeping the liquids away from the internal electronics
Click here to learn more!
View our Tech Tip on the Clevy Keyboard here.