Like I mentioned last week, AgrAbility is a program on a mission to "enhance the quality of life for farmers, ranchers, and other agricultural workers with disabilities, so that they, their families, and their communities continue to succeed in rural America."  On their website, you'll find The Toolbox Assistive Technology Database, which features several available products.  One of the listed products is the Wintercape for individuals in wheelchairs.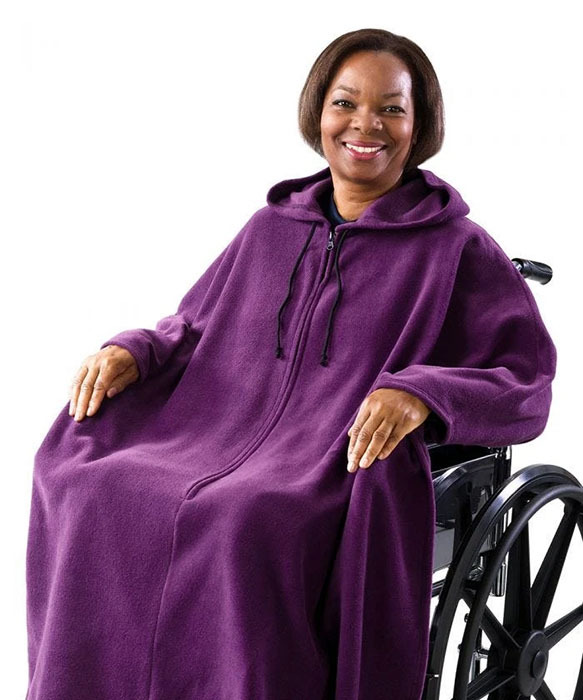 Traditional jackets and coats can be difficult for wheelchair users, so Wintercapes are a great adaptive solution to help keep them warm. Wintercapes are made with breathable waterproof Ultrex nylon outer layer and the inner lining is made of genuine Polartec, patented to trap body heat, while it whisks moisture away.  It is large enough to fully cover the user and even some of the chair.  The front is extra long in order to cover the legs and feet, while the back is shorter to prevent it from getting caught in the wheels.
To use the Wintercape, simply drape it around the user and zip it up.
Overview of Wintercape:
According to the product's website, they are "the only winter capes on the internet with genuine Polartec™ lining and genuine waterproof breathable outers"
No arm insertion needed just drape it and zip up
Has a 22″ long front zipper for ease of entry, hood, and a shorter back
The cape's back extends behind the chair and keeps backpacks dry and wind out
You can personalize the cape by getting your name on it
Machine washable on warm. Close the zipper and use a giant mesh wash bag to keep the hood intact.
Visit AdaptationsbyAdrian.com to learn more.