Worried about your loved one getting and taking the proper doses of their prescription medications?  MedMinder Pharmacy is an all-in-one solution to help you worry less!
MedMinder Pharmacy is a service that sorts and organizes all medications into disposable trays.  They'll also provide the MedMinder Smart Pill Dispenser so that your loved one always takes the proper medication at the right time.  What's even more convenient is that they deliver the trays directly to your door!  So all you have to do is place the disposable tray into the smart dispenser.
For added peace of mind, you can manage the dispenser remotely and enable custom alerts to remind them when to take their medicine.  It can notify you if they miss a dose via text message, phone call, or email.  To increase safety, you can also opt for locked compartments so they are only able to take the correct medications at the right time.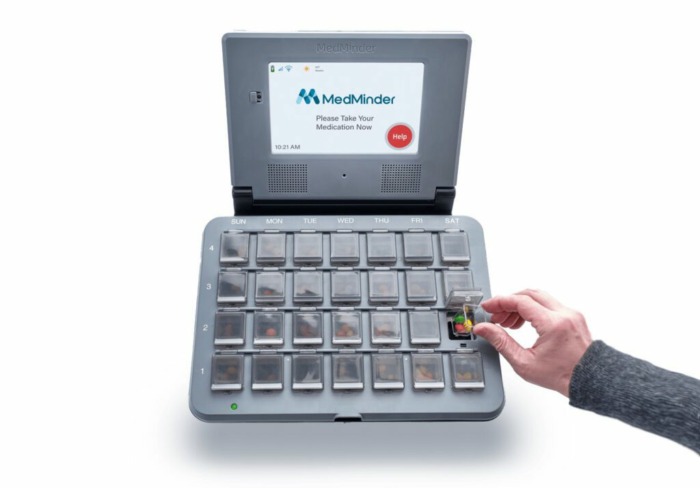 Here's more from their website:
"We'll check for medication interactions and coordinate with your doctor if necessary. We want to make sure that you're getting the best possible care.

At MedMinder, we're here to help you. We offer monthly calls to review your schedule and make any necessary changes. Plus, you'll never have to stand in line at the pharmacy again. Switching to our service is easy. Just let us know which medications you're currently taking, your insurance details, doctor's information, and we'll take care of the rest. Our goal is to make managing your medications as easy as possible…"
Overview of MedMinder Pharmacy:
Service that organizes and delivers prescription medications directly to your door

Smart pill dispenser alerts you when it's time to take medicine

The pill dispenser also provides a daily weather forecast on its screen and gives you the ability to upload personal images as well as record personal greetings remotely

MedMinder pharmacists take care of transferring your prescriptions to them

They'll also work with your doctors and take care of refills automatically 

Medications are pre-organized in their disposable trays, with up to 4 daily doses

With multiple daily doses, your tray can last two weeks. With one daily dose, your tray can last four weeks!

Works with most insurance providers and Medicare Part D
Click here to learn more!