With recent advancements in assistive technology, many individuals with disabilities are able to live more independently.  However, visually impaired or blind individuals may still have difficulty getting from place to place.  BlindSquare is an application available on iPhones and iPads, designed for visually impaired or blind users to be able to get around independently.  It uses the iOS device's GPS to determine your location and the data from the app FourSquare, to get you where you need to go.  It also integrates Apple's native VoiceOver feature so all you have to do is listen to know what's around.
BlindSquare took six months to develop and after many trials and errors, the app now does the finding and guiding for you by creating an audio map to inform you of surrounding streets, crossings and services.  Some individuals prefer more audio guidance while others prefer less; fortunately, BlindSquare includes a filter so you can choose what you'd like to hear — distance, direction you're heading, surroundings, streets — to help prevent you from getting overwhelmed.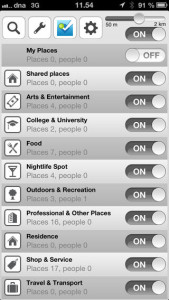 Though you need VoiceOver to operate the app, BlindSquare uses its own high-quality Acapella Voices, available in over 26 different languages.
With this app, individuals are now able to know when a bus stop is approaching, what corner to turn on while walking, find popular coffee shops nearby, etc.  The goal of BlindSquare is to get visually impaired or blind individuals to their destination successfully.  It is available for $14.99 on the App Store.