A few months back I wrote about Tile, a handy device that attaches to virtually any
item so you can keep track of it via your smartphone.  Soon there will be a similar
device available, called the TrackR bravo, which offers the same benefits and more!
TrackR is a thin, quarter-sized device that attaches easily to your most valuable items such as your keys, wallet, purse, and more.  The back can stick directly onto virtually any surface, or it can be attached to keychains via its convenient loop.  Once the TrackR is attached to your item, you'll be able to find it in seconds by ringing the TrackR via the smartphone app.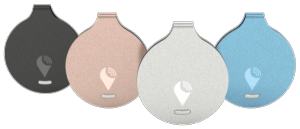 6 TrackR Features:
1. Distance Indicator
Are you getting warmer or colder to your misplaced item?  The TrackR app displays the distance between you and your items so you know how close you are.
2. Item Ringer
With the simple tap of a finger, TrackR can ring your misplaced item making it easier
to find.
3. Phone Finder
What happens if you lose your phone?  Well, the TrackR is a two-way tracking system.  If you press the TrackR device button it'll ring your phone or tablet, even if it's silenced!
4. Crowd GPS
If you lose an item, the entire TrackR community helps you find it.  When another user walks by your item, you're updated with the items' latest location.
5. Fully Customizable
You can customize the app's sound alert settings to play your favorite tune if you're about to leave something behind.  The device is also available in the four different colors presented in image above.
6. Separation Alert
You'll never forget your phone again!  The custom two-way tracking will alert you if you leave your phone behind.
Accessories:
TrackR bravo offers an accessory pack which enables you to keep track of even more items!
Steel key loop: an extra durable metal key loop that hooks onto not just keys but backpacks, purses and more.
Waterproof casing: keep track of items at the water park, pool, or at the lake.
Pet collar attachment: a waterproof attachment connects easily to your pet's collar, making it easier to find them if they get loose.
Specs:
Diameter: 31 mm
Thickness: 3.5 mm
Battery life: 1 year
Battery type: Replaceable CR 1616 battery
Device ringer volume: 85dB
Connectivity: Bluetooth 4.0 (Bluetooth Low Energy)
Device compatibility:

iPhone 4s and later
Android 4.4 and later with Bluetooth Low Energy
iPad 3rd generation and later
Works worldwide
To learn more, visit the TrackR website.